Cooking the Books: Murder at the Christmas Cookie Bake-Off by Darci Hannah
Lindsey Bakewell is settling into life in Beacon Point, Michigan, running her bakery out of the old lighthouse, making friends, and nurturing her romantic relationship with new boyfriend, Rory Campbell. With the Christmas season approaching, she's especially excited to host her parents and best friend, Kennedy Kapoor, for the holidays. Sure, she's having a little trouble hanging onto an assistant baker due to the interference of the ghost who haunts her lighthouse, but doing the work of two is par for the course for any small business owner.
What isn't par for the course is the sudden announcement of a town-wide bake-off between Beacon Point's small businesses as part of the town's attempts to lure more tourist dollars to the area. Felicity Stewart, the proprietor of the year-round Christmas store The Tannenbaum Shoppe, has already invited celebrity food critic Chevy Chambers to judge the competition's live finale. Lindsey figures she's up to the challenge, at least until the rest of Beacon Point's desperate business owners start calling her to order dozens of cookies for the initial shopper-judged round.
Calamity strikes more than once even before Chevy arrives, bringing with him a nasty attitude that isn't above seeking sexual quid pro quo from the contestants. Lindsey finds him repulsive but is determined to show off her culinary skills once she makes it to the live bake-off. Unfortunately, an unsuccessful attempt to corner some cookie thieves causes Lindsey to finally concede defeat—at least until she and Rory stumble over Chevy's dead body lying under mistletoe and covered in crumbs from her signature cookie.
While Lindsey doesn't immediately fall under suspicion for Chevy's murder, she does feel keenly involved. She might have given up on winning the bake-off, but she won't quit investigating what really happened that fateful day. With the help of family and friends, she unwraps more than one surprising truth on her way to bringing a killer to justice.
This is a very fun installment of the Beacon Bakeshop Mystery series. Filled with humorous asides, it had me laughing out loud, especially at the hilarious charades scene. I am also impressed by the clever construction of the mystery as well as by the effortless development of the story with its light supernatural aspects. And that ending definitely invites more hijinks into Lindsey's life. I'm looking forward to reading all about them in future novels.
There were nine recipes included of the many delectable sweet treats showcased in the narrative, and I had a tough time deciding which one to try. I finally settled on this one:
Bradley's Signature Brown Butter Shortbread Cookies
Preheat oven to 300 degrees F, place rack in middle position.
Prep time: 40 minutes. Cook time: 50 minutes.
Makes one 9×9 pan of cookies.
Ingredients
For the dough:
1 cup, plus 2 tablespoons salted butter (Irish butter is recommended, but not necessary)
2 tablespoons low-fat milk (I use 2%)
1 cup powdered sugar, sifted
1 teaspoon vanilla extract
2 cups all-purpose flour
For the topping:
6 ounces milk chocolate (may use dark chocolate if you prefer)
Instructions
To brown the butter: Prepare an ice-water bath with a medium metal bowl set inside. Put butter in a medium saucepan and cook over medium heat, stirring constantly. The butter will start to foam and turn brown. Continue stirring and cooking until the butter turns a nice deep golden brown. Be careful not to cook the butter too far or it will burn. Remove butter mixture from heat and pour into bowl in the ice-water bath. Whisk in milk. Using a rubber spatula, stir continuously while scraping sides. The brown butter will start to thicken. When butter is thick and stiff, remove from ice-water bath and set aside. Allow butter to rest 15 to 20 minutes until it reaches room temperature.
In the bowl of an electric mixer, beat brown butter until fluffy, about 2 minutes. Gradually beat in powdered sugar and vanilla. Reduce speed and beat in flour.
Line 9×9 pan with parchment paper. Press dough evenly in the bottom of the pan. Using a knife, score dough, creating even lines every 2 ¼ inches (to make 16 square cookies). Using a fork, prick dough twice on every square.
Bake in preheated 300-degree oven for 50 minutes, or until golden brown. Remove from heat and let cool in pan for 5 minutes. Using parchment paper, remove from pan and cut score marks with knife. Place on cooling rack and cool completely.
When cookies are completely cooled, make the chocolate drizzle. Break chocolate into chunks and place in a microwave safe bowl. Microwave for 10 seconds and stir well. If chocolate isn't melted, repeat. Dip a fork into the melted chocolate and drizzle over each cookie. Create your own drizzle pattern, or you can dip part of the cookie into the chocolate if you prefer.
Let cool on wire rack. Enjoy!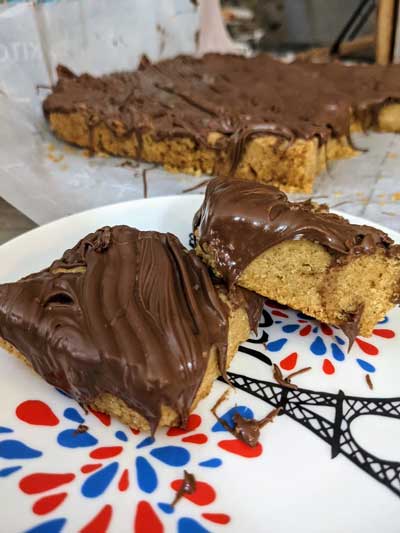 This cookie is so good but so labor-intensive! It's definitely the kind of thing you make for someone you love or someone you really, really want to impress. Though, perhaps, it was my own amateurish attempt at an ice bath that made the first few steps take so frustratingly long to complete. All I know is that it felt like I was re-churning butter, not an activity I want to incorporate into my life with any regularity.
That said, the chocolate-topped shortbread is one of the best cookies I've ever tasted! The shortbread manages to be both airy and dense at the same time, which makes absolutely no sense until you taste it for yourself. It's light on the tongue but feels both immensely filling and satisfying, which makes a 9×9 pan last longer than you might think.
Next week, we head west for an extremely stressful vacation, though at least we'll be making a delicious soup to keep us warm while investigating murder in the winter cold. Do join me!