Cooking the Books: Murder with Cherry Tarts by Karen Rose Smith
It's a season of changes for Daisy Swanson, as her elder daughter, Vi, is preparing for a wedding and a baby on the way. Her younger daughter, Jazzi, is also continuing to try to improve her own relationship with her birth mother, Portia, despite the obvious discomfort of Portia's husband, Colton. Daisy herself is navigating her renewed romance with Jonas Groft, the police detective turned woodworker who owns a shop selling handmade furniture near the tea garden she runs with her Aunt Iris. It's a testament to the largeness of her heart that she still has time to be concerned at the recent odd behavior of one of her employees, Karina Post.
Karina is a single mother who has recently started taking end-of-day baked goods and soups with her while visiting a less savory part of the Lancaster County, Pennsylvania, town where they live. Out of concern for her safety, Daisy and Jonas follow her one day and discover that she's been bringing the food to a homeless single dad with a daughter about the age of her own. They decide to help Keith Rebert get back on his feet, searching for a place for him to stay while he looks for a job to supplement the income he makes picking antiques and selling them to Pirated Treasures, a local store run by Otis Murdock and his nephew Barry Storm.
When Barry is found beaten to death with a rolling pin Keith had sold the store, Keith becomes the prime suspect. Daisy and Jonas are confident that the man they've been helping couldn't possibly be a murderer. While they're both careful to try to keep out of the way of Investigating Officer Detective Zeke Willet—who already shares a painful history with Jonas—they refuse to stand idly by and watch an innocent man get railroaded. Unfortunately, this brings Daisy to the attention of a scheming villain who will not hesitate to kill again.
I was pleasantly surprised by how the mystery shook out, as I definitely hadn't suspected the identity of the killer and, in fact, was quite concerned that someone else entirely was the murderer given the way the final scenes were set up. It was nice, too, to be a part of the ongoing saga of Daisy's life. I'm definitely with Jonas when it comes to her learning how to stand up for herself when it comes to her mother, Rose, especially. Trying to be the perfect daughter to a mother who is constantly critical is a losing proposition and entirely unhealthy.
Speaking of healthy, this book included three recipes that dietician Daisy definitely approves of. Unsurprisingly, I chose to try out the least healthy of the lot, the titular cherry tarts:
Cherry Tarts
Shells
Ingredients
4 ounces softened cream cheese
½ cup softened butter
¼ cup shaved almonds
1 tablespoon orange zest (from orange rind)
1 ½ cups flour
Instructions
Cream butter and cream cheese with mixer. Pour in almonds and orange zest. Add flour ¼ cup at a time.
Divide dough into 6 balls.
Roll each ball to form a crust large enough to cover bottom and sides of each tart pan. I use 6 tart pans (4 inches wide).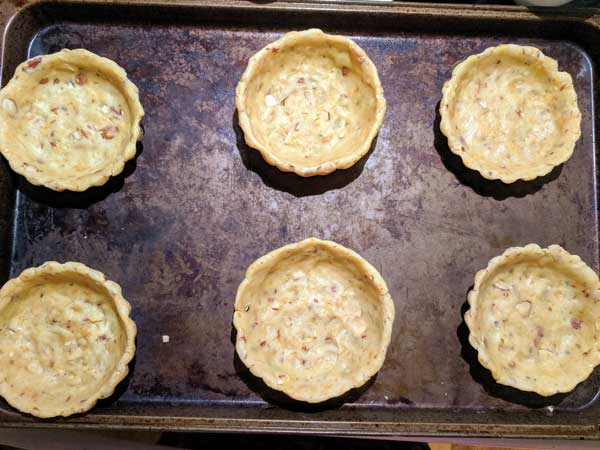 Surprise Layer
Ingredients
8 ounces softened cream cheese
1 egg
½ cup granulated sugar
1 teaspoon vanilla
1 tablespoon lemon juice
Instructions
Mix ingredients together with mixer until smooth. Pour into each tart shell.
Filling
Ingredients
1 can (21 ounces) Lucky Leaf Premium Cherry Fruit Filling and Topping
1 teaspoon almond extract
Instructions
In a bowl, mix almond extract with pie filling. Spoon cherry filling on top of cream cheese filling in each tart pan.
Bake all six tart pans at 350 degrees for 40 minutes.
These were surprisingly easy to make and quite delicious, to boot! I'd probably consider making my own cherry topping in the future, as canned is convenient but not, in my opinion, as tasty as pitting fresh cherries (or using any other berry) and heating them with sugar and cornstarch for your own. I also felt like the gel-like consistency of canned didn't allow the almond extract to disseminate as well as it might have, even with a lot of stirring. That said, the crust was absolutely delightful to make, as was the surprise layer—though, as you can tell from the pictures, I didn't quite get the topping to cover it well enough to make it a real surprise. I doubt that any of my test eaters cared though, as these tarts were eaten quite quickly.
Next week, we stay in-state to solve a murder with a whole family of crime-solvers while whipping up an Italian delight. Do join me!