Cooking the Books: A Killer Edition by Lorna Barrett
Tricia Miles is the owner of vintage mystery bookstore Haven't Got a Clue, but since promoting her assistant, Pixie Poe, to assistant manager, she has found herself at a loose end as Pixie enthusiastically and capably takes over her responsibilities. Deciding to make good use of her years of experience running a non-profit, Tricia joins the board of the local animal rescue group, Pets-A-Plenty, but encounters a curious hostility from the other board members—especially from the president, Toby Kingston.
Feeling unwanted at every turn, she confides in her therapist, who suggests she go pick up a racy novel and spend time with her friend with benefits, Marshall Cambridge, to let off steam. So it's a frustrated-if-resigned Tricia who heads to the local romance bookstore only to walk in on a heated argument between store owner Joyce Widman and Joyce's neighbor Vera Osborn.
Vera exits in a huff, leaving Joyce to confide in Tricia that their dispute is over her garden. When Tricia expresses interest in gardening herself, Joyce invites her over the next day to look at Joyce's setup and to take some extra produce home. Excited to find a new hobby that might take up some of her now-ample free time, Tricia turns up promptly at Joyce's only to discover Vera's body run through with a pitchfork. Joyce begs Tricia for help in clearing her name when it becomes clear that she's the number-one suspect in her cantankerous neighbor's death.
Unlike many other amateur sleuths, Tricia is reluctant to get involved. Police Chief Grant Baker is an ex-boyfriend who is never too thrilled at her involvement in the murders that have been plaguing Stoneham, so she doesn't have a whole lot of pull when it comes to providing character references, much less sleuthing assistance. But as Tricia attempts to ingratiate herself to Pets-A-Plenty, as well as to enter the Great Booktown Bake-Off to further take her mind off things, she begins to discover troubling information about both Vera and Joyce that could put her own life in danger.
Over the course of the 13 books in the series, Tricia has really developed into a complete personality, flaws and all. Like any real person, she's made both friends and enemies over the course of the past few years, and picking up each new novel feels to me like catching up with a wryly introspective old friend who isn't afraid to let you see her vulnerabilities as she deals with the ups and downs of everyday life. Granted, this is a friend who spends an unusual amount of time solving murder mysteries, but that's part of the series' charm!
Also a large part of the charm: the truly delectable recipes in each book. This volume contained three cupcake recipes, of which I chose to bake the following:
Tricia's Lemon Cupcakes
Ingredients
½ cup (1 stick) unsalted butter, at room temperature
1 cup granulated sugar
2 large eggs, at room temperature
1 ½ teaspoons pure vanilla extract
1 ½ cups all-purpose flour
2 teaspoons baking powder
½ teaspoon salt
½ cup milk
Zest from 1 lemon
Juice from 1 lemon
Crystallized sugar (optional)
Instructions
Preheat the oven to 350°F (180°C; gas mark 4). Line a 12-count muffin pan with paper or foil liners. Set aside. Using a handheld or stand mixer, beat the butter and sugar together on medium-high speed in a large bowl until creamed (about 2 to 3 minutes). Scrape down the sides and bottom of the bowl as needed. Add the eggs and vanilla. Beat on medium-high speed until everything is combined, about 2 minutes. Continue to scrape down the sides and bottom of the bowl as needed. Set aside.
In a medium bowl, combine the flour, baking powder, and salt. Slowly add the flour mixture to the butter mixture in three additions, beating on low speed. The batter will be thick.
Beat in the milk, lemon zest, and lemon juice until just combined. Do not overmix the batter.
Spoon the batter evenly into 12 cupcake liners, filling them about two-thirds full.
Bake for 18 to 22 minutes, or until a toothpick inserted in the middle comes out clean. Remove from the oven and allow to cool completely before frosting.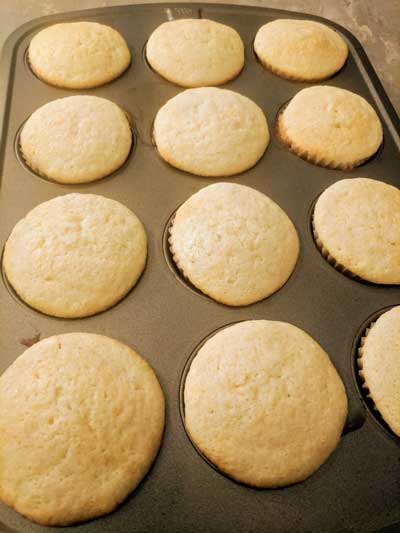 Frost the cooled cupcakes with lemon buttercream frosting. Sprinkle with crystallized sugar, if using. If topping with lemon zest, do so right before serving.
Ingredients
3 tablespoons butter, at room temperature
2 to 3 teaspoons lemon extract
1 teaspoon milk (more as needed)
5 drops yellow food coloring (optional)
1 cup confectioners' sugar (more as needed)
Lemon zest (optional)
Instructions
Beat the butter, lemon extract, and the milk together until smooth. If using, add the yellow food coloring. Beat the confectioners' sugar into the butter mixture until desired consistency is reached. You may decide to add more sugar at this point. Note: You will want to at least double the recipe if using an 8B tip to pipe the icing.
These were a delightfully lemony confection that I made a second batch of to send to the neighbors, so enamored was I of the first batch. I very much appreciated how the frosting did not include a superabundance of sugar. I always grimace a bit when the frosting on cupcakes is too high to eat comfortably, and I felt this recipe made the perfect amount of not-too-sweet frosting. I opted out of all of the optional ingredients but don't think the end result suffered at all for it.
Next week, we head to the Midwest for a taste of Central Europe while solving a deadly case of poisoning in the first book of a brand new series. Do join me!