Cooking the Books: Hard Dough Homicide by Olivia Matthews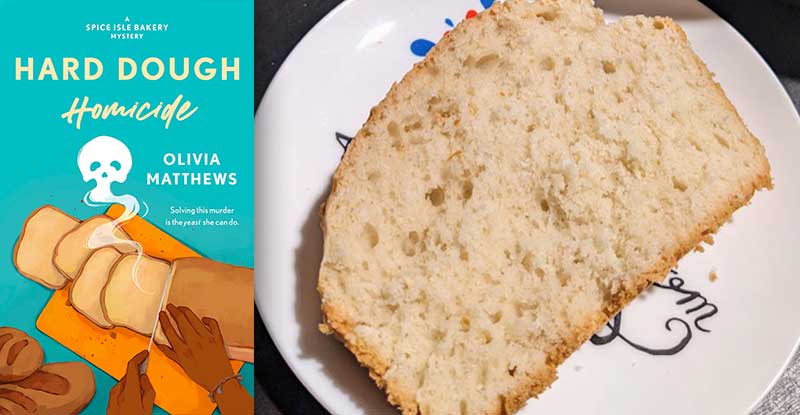 Business at Brooklyn's Spice Island Bakery is picking back up now that the Murray family has been cleared of any involvement in the murder of their once-competitor. Our heroine, Lyndsay Murray, may have had a lot to do with catching the actual killer and definitely holds a grudge against the police detective who suspected she might have been responsible for her rival's death in the first place. Never mind the fact that Detective Bryce Jackson—who was her crush back in high school—is doing his best to make amends.
Amends seem to have come back into fashion, as another bane in the Murray family's life insists on having Spice Island cater her retirement dinner. Emily Smith is the unpopular principal of the Kings County Early College High School. Her high-handed ways forced Lyndsay's mother, Cedella Bain Murray, to take early retirement from her job as a math teacher over a year ago. Lyndsay secretly doesn't mind; having her parents involved in the day-to-day running of her bakery is a dream come true for her. But she's also fiercely protective of her family's feelings, so she has absolutely no interest in allowing Emily to insert herself into their lives once more.
In order to discourage Emily, Lyndsey asks for an outrageously expensive catering fee. When Emily unexpectedly agrees to it, everyone in Lyndsay's family must reluctantly concede that it's too lucrative an opportunity to pass up. Determined to be professional, the Murrays set about catering the best Caribbean feast possible. Alas, that the dinner is marred by Emily suddenly going into convulsions and dying.
The neighborhood grapevine is soon abuzz with rumors that Emily was poisoned—either deliberately or accidentally—by the food at Spice Island. Business immediately plunges. Things go from bad to worse when Cedella becomes the police's prime suspect in an investigation led once more by Detective Bryce Jackson.
Spurred by her complete lack of confidence in Bryce's abilities, Lyndsay springs into action. She knows that no one in her family cared enough about Emily to kill her, which means that one of the five other guests must have been responsible. All five were Emily's co-workers, and all were happy to see the back of her. But why kill someone who was about to permanently exit their professional lives anyway? Lyndsay and her family must investigate before her mother is falsely imprisoned and their bakery becomes the killer's next fatality.
I loved how this book built on the series debut to provide a solidly written mystery with terrific, lived-in characters. Lyndsay's family is loving, charming, and supportive—their united front made me feel so warm and fuzzy. Lyndsay herself isn't perfect, but her foibles are all completely understandable, and her supporting cast isn't afraid to call her out on them from time to time. This is a diverse read that promises more excellent representation and storytelling to come. I can't wait to enjoy future books in the series!
There were two recipes included here, of Grenadian baked goods, and I decided to try this one for a specialty bread:
Hard Dough Bread Recipe
Dry ingredients
¾ ounce instant yeast
4 tablespoons butter, softened
4 cups all-purpose flour
3 tablespoons sugar
2 teaspoons iodized salt
Wet ingredients
1 cup water
½ cup almond milk
2 tablespoons olive oil
Utensils
Large mixing bowl
Fork
Spoon, wooden preferred, but metal will do in a pinch
Clean, dry hand towel
Rolling pin
9" x 5" loaf pan
Instructions
Add yeast to a cup of water and leave to rise.
In a large bowl, using a fork, combine the butter into the flour.
Add sugar and salt. Mix well.
Slowly stir in milk and yeast mixture until the flour is completely moistened and the dough begins to lift from the mixing bowl.
Rub the entire surface of the dough and sides of the bowl with olive oil. Return it to the bowl and cover it with a clean, dry towel. Leave the dough to rise for 30 minutes.
Flour a smooth clean surface of your counter or table. Remove the dough from the bowl and knead it on the floured surface for about 3 minutes to release air bubbles.
Using a rolling pin, roll dough into a tight log shape and put it inside the 9" x 5" loaf pan.
Cover the pan with the clean, dry hand towel and allow the dough to rise for another 30 minutes.
After 20 minutes, preheat the oven to 350 degrees Fahrenheit.
Bake bread on center rack of oven for 40 minutes.
Note: Because the hard dough bread does not use preservatives, store in an airtight container for up to 3 days at room temperature or up to 7 days in the refrigerator.
Most bread recipes are incredibly intimidating. Then, when you finally take a bite of the final product, you think, "I could have just bought a loaf at the grocery store." This recipe, on the other hand, was not only straightforward to execute but resulted in a bread far superior to anything I can find locally. I'd never had hard-dough bread—called that because of its dense crumb—but I loved the slight sweetness and wonderfully thick texture. It's perfect to eat with just a layer of creamy butter. Try it with fancier toppings and as a sandwich bread too.
The only thing I worry I did wrong was how I mixed in the liquids before oiling. I wasn't sure if I ought to stop adding liquids after the dough began to lift from the sides of the bowl, but I went ahead and added all the milk and yeast mixture anyway. Although my dough was rather runny, the end loaf turned out really well, so I must not have screwed up too badly if at all. One note for novice bakers: take care to use room-temperature or warm water for the yeast mixture to get it to properly bloom. Then, get ready for a real treat that you'll want to bake again and again!
Next week, we head to a neighboring state to prepare a cake that's rather reminiscent of another specialty bread, while trying to get to the bottom of a grisly murder. Do join me!