Cooking the Books: Guilty as Charred by Devon Delaney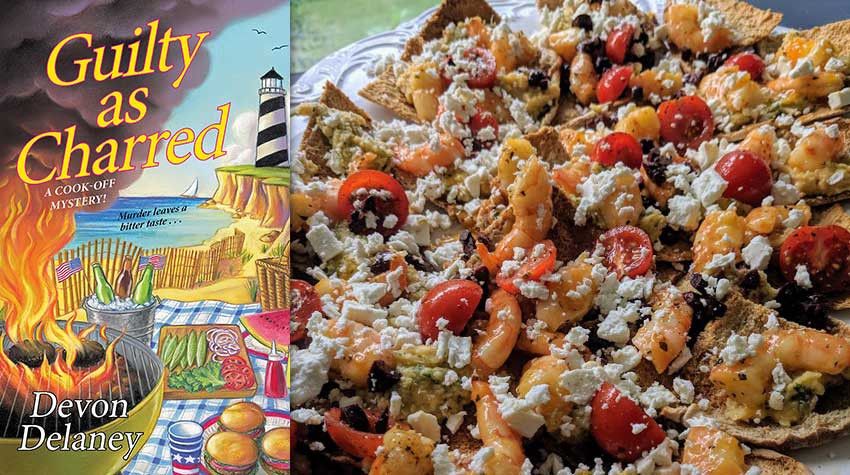 Sherry Oliveri is on her way home to Augustin, Connecticut, from Florida where she's won her latest culinary victory. Her "New England Crab Cake Sliders" were the winning entry for America's Good Taste Recipe Contest, and she's ready to kick back and relax from competitive cooking for a little while, focusing on her other preoccupations back home. One of these is her role as a committee member for the Augustin Community Garden, which may soon be in jeopardy after the landowner and driving force behind the enterprise, Poppy Robinson, is found bludgeoned to death in one of the garden beds.
Sherry is shocked and saddened by the news but determined not to get involved. Unfortunately, her circle of acquaintances—knowing full well her previous successes in mystery solving—are equally determined to recruit her to the cause. The one exception is Detective Ray Bease, of course, who would much rather amateurs stay out of his business. Sherry is only too happy to oblige him, preferring to work on the town newsletter and at her dad's shop, the Ruggery. It's there, however, that her dad and friends somehow persuade her that Augustin needs a Fourth of July cookoff of its own—and that she'd be the perfect person to plan it.
Being on the other side of the competition is a new experience for Sherry, one that threatens to overwhelm her. Fortunately, she has help in the form of the uber-competent Madagan Brigitti. Sherry and Madagan had gotten off to a bad start years ago when they both competed in the same cooking contest, but as Sherry learns to re-evaluate her opinion of Madagan, she also begins to question some of her assumptions regarding the recently murdered Poppy. When she becomes the target of a deranged killer herself, she realizes that staying uninvolved is not an option if she hopes to make her first foray into cookoff organizing as successful as her competitive career.
As always, Sherry is a delightfully no-nonsense heroine, as reluctant to investigate as she is to get romantically involved with the eligible men who happen into her life. It was also a lot of fun to get a behind the scenes peek at what it takes to put together a cooking competition, especially when the neighboring town is threatening to upstage the event with a cookoff of their own! But Devon Delaney's greatest strength is in her amazing recipes. Three were included with this novel, and I decided to try this fresh fusion of two classic snacks:
Shrimp Nachos with Artichoke Hummus
Ingredients
1 tablespoon plus ¼ cup olive oil, divided use
1 pound large shrimp, shelled, deveined, uncooked
1 tablespoon apricot preserves
¼ teaspoon dried oregano
1 teaspoon sea salt, divided
½ cup canned garbanzo beans, rinsed, drained
½ teaspoon minced garlic
2 tablespoons fresh lemon juice
2 tablespoons fresh dill, chopped
½ cup cherry tomatoes, halved
2 tablespoons black olives, chopped
¼ teaspoon smoked paprika powder
¼ teaspoon ground pepper
4 pita whole grain pocket bread, opened, cut in triangles
½ cup crumbled feta cheese
Instructions
Preheat oven to 400 degrees.
Heat 1 tablespoon oil in a large skillet over medium heat. Add shrimp and cook until pink. Add apricot preserves, oregano, and ¼ teaspoon salt to the skillet and toss to coat shrimp. Remove shrimp to a plate.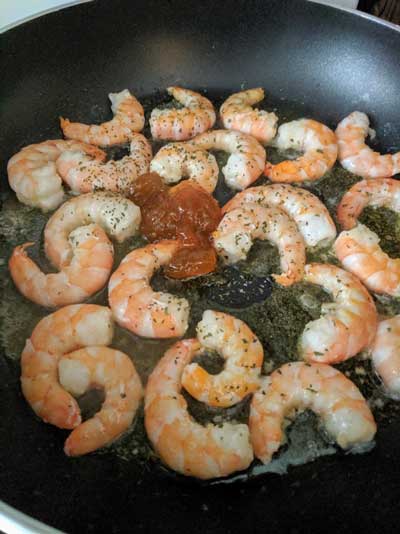 Prepare artichoke hummus by combining the beans, artichoke hearts, ¼ cup olive oil, minced garlic, lemon juice, and ¼ teaspoon salt in a food processor. Pulse until ingredients are well blended. Remove artichoke hummus to a bowl and stir in dill. Set aside.
In a bowl, combine tomatoes, olives, paprika, ¼ teaspoon sea salt and ground pepper.
Line a 9×13-inch baking dish with pita quarters and bake until crispy. Spread chips across a small serving platter. Spoon dollops of hummus over the chips and top with shrimp and tomato blend. Sprinkle feta evenly across top.
I bow to the mind that thought to combine nachos with hummus to make this dish. Healthier than your traditional nachos but with more depth to it than the average hummus, this works perfectly as an entree but will feed more as an appetizer. My lovely assistant Karin and I enjoyed this for dinner, with enough for the three other adults in our households as well.
I especially enjoyed the preparation of the shrimp. The apricot preserves plus oregano and salt combination was really terrific, perfectly blending sweet with savory. Since I could only find jumbo shrimp at my local grocery store, I did wind up cutting the shrimp into pieces to spread more evenly over the nachos, but that definitely didn't detract from the flavor whatsoever. This was another winning dish that proves how much Ms. Delaney deserves all those awards for competitive cooking that helped inspire this series.
Next week, we travel west to enjoy a yummy treat that might be the cutest thing I've ever baked. Do join me!