Cooking the Books: A Glimmer of a Clue by Daryl Wood Gerber
Fairy garden store owner Courtney Kelly has a secret: she can actually see fairies and is in the process of helping her own, Fiona, earn wings by doing just and righteous things. So when Fiona urges Courtney to hose down a pair of arguing ladies in the courtyard outside of her store, Courtney knows it's for the best—even if it earns her the enmity of one of the women, the hyper-competitive art critic Lana Lamar. The other woman is Wanda Brownie, gallerist and mother of Courtney's best friend, Meaghan. Lana and Wanda had come to public blows over not only what Wanda deemed unfair criticism of one of her artists but also Lana's insistence on having the rules bent for her at the sports club they're both heavily involved with.
So when Lana is found dead at an art auction some nights later with Wanda clutching the hilt of the letter opener plunged into Lana's chest, it's no surprise that Wanda is quickly charged with murder. It doesn't help Wanda's case any that she has no recollection of anything between when she went to take a nap in the ladies' lounge and when she was gently woken from her sleepwalking fugue after Courtney witnessed the grim tableau. Even worse, Wanda had clearly said "What have I done?" to those who saw her leaning over Lana's body.
Courtney and Meaghan know that Wanda would never kill anyone while lucid or otherwise, so they're determined to clear her name. Fiona, of course, is eager to help, both in this instance and in other cases where her special abilities and connections can do the most good. But will Courtney need more help than even a fairy friend can provide when a remorseless killer decides to permanently stop her from figuring out the truth?
The paranormal aspect of this culinary cozy mystery is an absolute delight, as Courtney and Fiona sleuth their way towards unmasking a killer in their otherwise charming California hometown of Carmel-by-the-Sea. The mystery plot is solidly built, but perhaps my favorite part of the book was the continuation of a subplot from the series debut where Courtney and Fiona do their best to reunite a mother and daughter separated after the latter ran away to join a cult. The tips and tricks interwoven throughout the narrative on building your own fairy garden were also downright inspirational and are certainly getting me closer and closer to building my own!
There were 13 recipes included here, with gluten-free alternatives for many of the baked goods. Daryl Wood Gerber has an exquisite palate, so I knew I couldn't go wrong with any of these dishes. Ultimately, I chose to try out the following:
Cheddar Artichoke Appetizer
Serves 6-8 as side dish; serves 12 as appetizer
Ingredients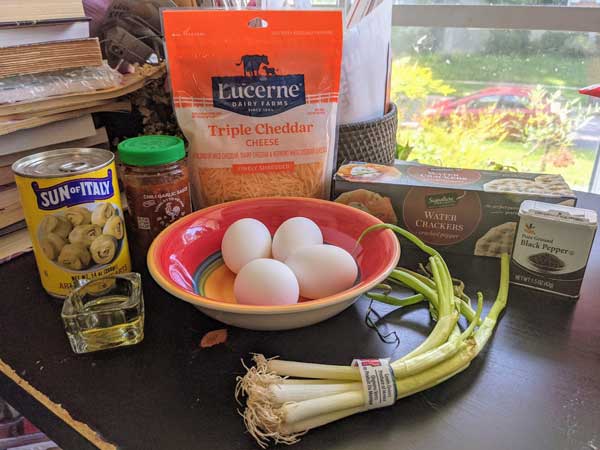 4 green onions, diced
1 14-ounce can artichoke hearts, in water, drained and diced
1 tablespoon oil
4 eggs slightly beaten
6 soda crackers (for a gluten-free option, use gluten-free crackers)
1 ½ cups cheddar cheese, shredded
1 teaspoon pepper
1 teaspoon Tabasco sauce
Instructions
Preheat oven to 325 degrees F. Oil an 8-inch square pan.
Sauté green onions and artichoke hearts in oil for about 3 minutes on medium, until green onions are tender. Cool and set aside.
In a medium bowl, mix eggs, crackers, cheese, pepper, and Tabasco sauce. Add cooled green onions and artichokes.
Pour mixture into the prepared 8-inch square pan. Bake for 35-40 minutes.
Serve hot or cold.
For side dish, cut into 2-to-3-inch square portions.
For appetizer, cut into 1-inch bite-sized pieces.
I freely admit that the main reason I chose this dish—the draw of yummy artichokes aside—was to use up some of the extra green onions and eggs in my fridge. This is a great recipe for that, especially because the end result is so delicious whether served hot or cold (though if forced to decide, I'd probably plump for the hot version). My husband did bring home water crackers from the grocery store instead of soda, but I don't think that changed the taste very much. Water crackers do tend to be a bit less salty than soda, but that worked out just fine for my household. I also used a chili-garlic sauce instead of Tabasco, and think you could safely get away with using any hot sauce of your choice. Regardless, this was a very delicious dish that works nicely as a light meal and keeps really well for when you don't feel like doing much more than microwaving yourself a snack or slightly more.
Next week, we head inland to try out another savory side while investigating the suspicious death of a hiker. Do join me!