Cooking the Books: Fishing for Trouble by Elizabeth Logan
It's just another busy Alaskan tourist season day at Charlie Cooke's Bear Claw Diner until one of her guests abruptly starts choking at his table before falling over unconscious. Paramedics whisk young Ethan Johnson away to the nearest medical center, and a concerned Charlie drives there with his lunch date, Zoe, since only family members are allowed to ride along in the ambulance. They're both shocked to arrive and discover that Ethan has died and that no one yet knows why.
Charlie takes some comfort in knowing that while Ethan, Zoe, and two more of their colleagues from a local fishery had ordered food from the diner, they hadn't yet been served, so there can be no question of her food causing his demise. But all signs point to foul play, and when Zoe abruptly runs away after taking refuge at Charlie's, Charlie finds herself more involved in the mystery than she had otherwise planned. With State Trooper Cody Graham spread thin, as always, with his responsibilities policing their municipality, it's up to Charlie and her friend-and-sometime-love-interest Chris Doucette to take up their roles as semi-official deputies to uncover the truth.
Complicating things is the sudden arrival of Charlie's ex-fiance, Ryan, from San Francisco. He keeps wanting to talk to her, but Charlie would be happiest avoiding him forever. Worse, Charlie's parents are on a trip to California themselves, and Charlie is starting to worry that they're thinking of moving south permanently. Fortunately, she has her sweet cat, Benny, to help her think things through—as well as to help save her from the threat of a vicious killer.
The subplots were delightful as we learned cool new things about Alaska through the eyes of our millennial heroine. I particularly liked how Chris morphed into a tech-savvy secret agent at the end; it hints both at his past and how seriously he takes his responsibilities as a semi-official deputy. I rather wished Charlie had made better choices at several points in the narrative, but all's well that ends well, and it was a pleasant enough ride along the way.
Fishing for Trouble featured two Bear Claw Diner recipes. As with the previous novel in the series, the first boasts a meat somewhat difficult to come by in the Lower 48, while the second was more accessible.
Salmon Patties
Ingredients
½ red or yellow bell pepper, diced
4 T olive oil, divided
3 T butter, divided
1 lb boneless cooked salmon, flaked
black pepper to taste
1 cup plain or seasoned bread crumbs
2 eggs, lightly beaten
3 T mayonnaise
¼ cup fresh parsley, minced
Instructions
Sauté bell pepper with half the olive oil and half the butter.
In large bowl, combine salmon, sautéed bell pepper mixture, and all other ingredients.
Mix well and form patties: about 1 heaping tablespoon each, molded into ½-inch patties.
In a skillet, heat the other half of the olive oil and butter.
Add skillet salmon patties in a single layer.
Sauté 3 to 4 minutes per side or until golden brown and heated through.
Remove finished patties to a paper towel-lined plate and repeat with remaining salmon cakes.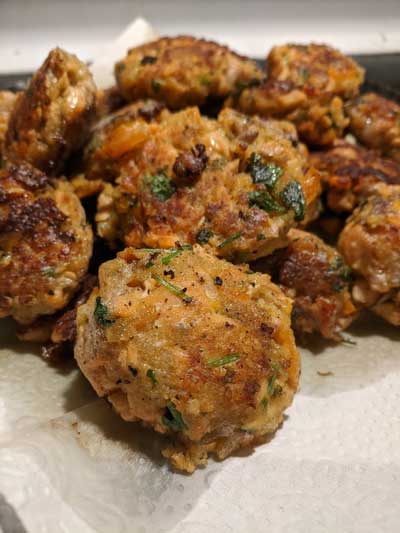 Makes 12 to 14 patties.
I decided to use an orange bell pepper to split the taste difference between red and yellow and thought that worked out quite nicely! I also sautéed and flaked my own salmon fillets, though I imagine this would still be tasty if you used canned salmon. These patties were fairly fast and easy to make and would work just like crab cakes, either on a bun as a sandwich or on a platter with sides. They're certainly a healthy and delicious way to start the New Year, especially if you go easy on the butter and use only olive oil instead.
Next week, we head southeast to bake a breakfast treat while investigating a suspicious disappearance. Do join me!