Cooking the Books: An Eggnog to Die For by Amy Pershing
Samantha Barnes is hoping that her notoriety as a viral YouTube star for slicing off her now-ex-husband's fingertip during an ill-advised knife fight has died down so she can concentrate on her life as a restaurant critic and maker of far tamer accompanying food videos. With the holiday season coming up, she's also preoccupied with her parents' imminent return to their hometown in Fair Harbor, Massachusetts, from where they've retired in Florida. She's especially nervous about reintroducing them to her boyfriend, Jason Captiva, whom her father had warned away from her when she was 17 and he was 21, many years ago.
Unfortunately, Jason has been behaving somewhat cagily recently, causing Sam to start doubting their relationship altogether. But all thoughts of family and love life problems fly out the window when Sam accidentally walks into a restaurant office and finds a man dressed as Santa dead on the floor. Dazed, she walks back out to the dining area and announces to fellow diners and their already recording cameras, "Santa is dead," and finds herself going viral again for all the wrong reasons.
The dead man, Caleb Mayo, was an unpopular town selectman who had dressed up as Santa Claus for Fair Harbor's annual celebrations. What he was doing rifling through the files at The Ginger Jar, owned by brother-sister duo Martin and Julie Bruni, is anyone's guess. Sam has been trying to get the recipe for Martin's amazing eggnog for her at-home Christmas parties for a while now, but that's not the only reason she feels compelled to investigate this mystery. Her mother, Veronica, is raring to get back to work as an investigative reporter and is asking questions of all sorts of unsavory characters. Sam is eager to close the case and help keep her mom out of trouble—but will she land herself in the middle of a whole murderous mess instead?
It was fascinating to follow along with Sam as she makes any number of tough moral choices over the course of her investigations, even as she wrestles with examining her own personality traits and insecurities. Her elderly neighbor Helene Greenberg, former criminal psychologist and current town librarian, is fortunately on hand to help sort out her issues and was just as aghast as I was when Sam went off alone to confront a murder suspect in a remote area perfect for dumping bodies. Fortunately, all's well that ends well, paving the way for more of Sam's intriguing adventures.
This second installment of the Cape Cod Foodie Mystery series also included four recipes for an entire cozy meal. Tempted as I was to try the "Braised Leeks with Parmesan," I knew it was high time to make a dessert for this column, so I was eager to attempt the following:
Blender Chocolate Mousse
serves 4 to 6
Ingredients
¾ cup heavy cream (plus more if you want whipped cream on top)
2 large eggs, at room temperature
6 ounces dark chocolate, roughly chopped (or dark chocolate chips)
¼ cup granulated sugar
¼ cup water
¼ cup strong (brewed) espresso (or very strongly brewed coffee or cold-brew coffee concentrate
½ teaspoon vanilla extract
¼ teaspoon kosher salt
Instructions
In a large bowl, whip the cream to medium glossy peaks, about 3 minutes. Set aside in the fridge.
Once the eggs have reached room temperature, crack them into a blender and add the chocolate. Cover and blend on medium-high speed for a minute or so. Turn the blender off.
In a small saucepan over low heat, combine the sugar and water and stir until dissolved. As soon as the syrup begins to boil, turn off the heat.
Turn the blender back on and slowly pour the hot sugar syrup into the chocolate mixture. (If your blender top has a removable filler cap, take it out and pour the sugar syrup through that, which will keep any splattering to a minimum.) The hot sugar syrup will melt the chocolate and cook the eggs. Keep the blender running and add the coffee, vanilla, and salt. Blend for another minute or so until the mixture is very smooth and has cooled to room temperature.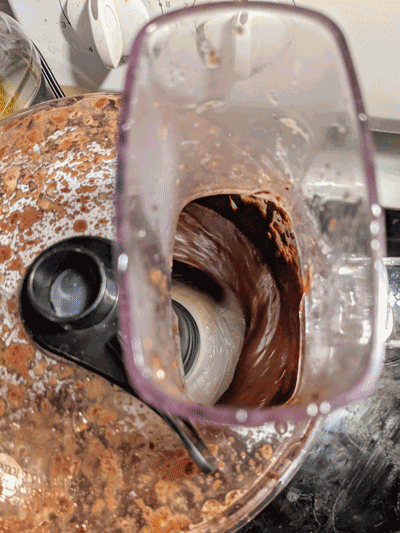 Fold ½ cup of the chocolate mixture into the chilled whipped cream until smooth, then add the rest of the chocolate mixture to the cream mixture and fold until there are no streaks.
Pour into individual bowls or glasses and let the mousse set in the fridge until firm, at least two hours or up to 24 hours.
Serve chilled with extra whipped cream, if desired.
This was so delicious and decadent and so easy to make! In all honesty, I don't fully understand the chemistry behind making mousse, but I loved how quickly this all came together. I especially enjoyed the kick from the cold-brew coffee concentrate that I used. I chose not to add extra whipped cream, as I feel that the sweetness of the mousse was perfect as is, but I can see where other people might enjoy an extra touch of creaminess with their chocolatey goodness.
Next week, we head to the Midwest to investigate more Yuletide shenanigans while frying up a tasty treat. Do join me!