Cooking the Books: Dying for Devil's Food by Jenn McKinlay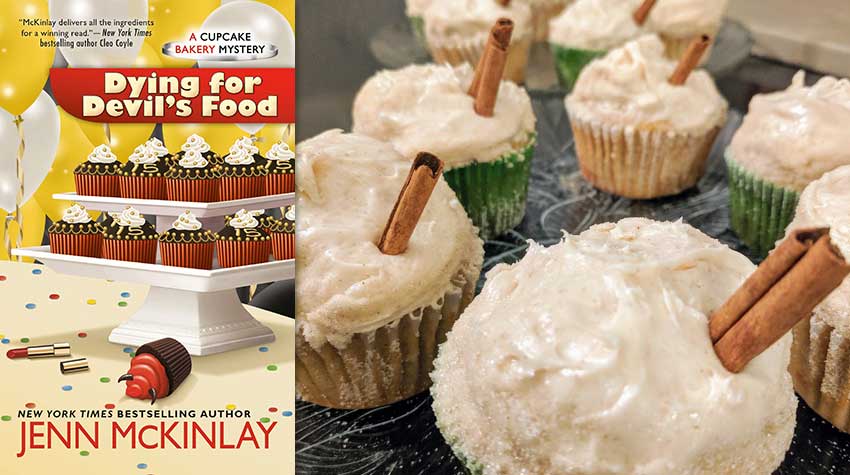 Cupcake bakery owner Melanie Cooper has zero interest in attending her high school's 15-year reunion, but her best friend and business partner, Angie Harper, is not above pulling every dirty trick in the book to not only get her to go but also to cater the affair. Mel was cruelly bullied in high school for being overweight and never sticking up for herself, and she's uninterested in seeing her former tormentors once more. Angie, however, thinks that Mel should show up in order to prove how well she's done for herself since high school, with her successful business and newfound conventional attractiveness, alongside her conventionally attractive fiancé, Joe DeLaura, who happens to be Angie's older brother.
Mel caves in and agrees to Angie's demands, and at first, everything goes well as old friendships are renewed. But then, Cassidy Havers-Griffin, the beautiful but cruel queen bee of their class, gets Mel in her sights again. Alcohol and the sight of Mel dancing with her husband, Danny Griffin, lead to an unpleasant confrontation.
Mel is soon ready to call it a night, but when she makes a pit stop in the bathroom, she stumbles across Cassidy's supine body. Graffiti scrawled in lipstick on the wall makes it look like Cassidy was about to write Mel's name in a possible identification of her own murderer. Now, Mel has to clear her name while eluding a killer who will go to extreme lengths to satisfy a murderous grudge.
This was probably my favorite installment of the Cupcake Bakery mystery series so far, as I greatly enjoyed the way Jenn McKinlay explored Mel's conflicted feelings over her high school reunion and the murder that happened there. While I don't think Mel had anything to prove to former classmates that she never really liked anyway, I was glad for her to gain some closure as well as make unexpected friends and allies. I also enjoyed Ms. McKinlay's nuanced portrait of bullies and their motivations—it doesn't excuse their horrible behavior but certainly helps explain it.
And, as always, there were the extraordinarily delicious recipes in the back! Ms. McKinlay has the best cupcake recipes. She included three here (plus a recipe for fondant) that I had a very hard time deciding between before finally settling on this one:
Cinnamon Sinners Cupcakes
Ingredients
½ cup butter, melted
1 cup sugar
4 eggs
1 teaspoon vanilla extract
1 ½ cups flour
1 teaspoon baking powder
1 teaspoon cinnamon
½ teaspoon salt
¾ cup buttermilk
Instructions
Preheat oven to 350 degrees. Line cupcake pan with paper liners. In a large mixing bowl, cream together butter and sugar until light and fluffy.
Add the eggs and the vanilla.
In a medium bowl, sift together the flour, baking powder, cinnamon, and salt. Alternately add the flour mixture and the buttermilk to the large bowl, mixing until the batter is smooth.
Fill paper liners until two-thirds full. Bake for 17 to 22 minutes until golden brown. Makes 12.
Cinnamon Cream Cheese Frosting with Cinnamon Stick Garnish
Ingredients
8 ounces cream cheese, softened
1 stick unsalted butter, softened
½ teaspoon vanilla extract
½ teaspoon cinnamon
3 ½ cups powdered sugar
¼ cup sugar
⅛ teaspoon cinnamon
Cinnamon sticks
Instructions
Beat cream cheese, butter, vanilla, and cinnamon in a large bowl until well blended. Gradually add powdered sugar and beat until frosting is smooth.
Put frosting in a pastry bag and pipe onto cupcakes in thick swirls, using an open tip. Mix together the sugar and cinnamon to make cinnamon sugar and spread on a flat plate. Roll the side of the frosted cupcake so that the cinnamon sugar mixture coats the edges just above the wrapper. Top with a cinnamon stick.
I do have the habit of using less confectioners' sugar than most icing recipes call for (only 2 cups and a bit instead of the 3 ½ recommended here), but I find that it rarely detracts from the taste. I also decided to forego piping the frosting in favor of spreading it, as my piping efforts just make me sad, but I think these cupcakes came out looking perfectly adorable regardless. I'm not sure if you can see the little cinnamon sugar rim very well in the photos, but don't worry, you could definitely taste it better than you could see it in real life anyway.
I also chose to break the cinnamon sticks used for garnishes into thirds because a) you don't eat the cinnamon sticks, and b) while they're super cute, they're kind of pricey for a purely decorative item. That said, these were definitely the cutest cupcakes I've ever made and, as with all Ms. McKinlay's recipes, incredibly moist and delicious. I'm definitely looking forward to more in her next book.
Next week, we travel east to bake a delightful southern specialty while tracking down murderers and library scofflaws. Do join me!