Cooking the Books: Draw and Order by Cheryl Hollon
It's one setback after another as Miranda Trent struggles to get the moonshine distillery her deceased uncle left to her up and running before the deadline she needs to meet in order to fully inherit his estate. Between fixing up her outbuildings and overseeing the nature hikes and art classes that are her professional bread and butter, she already has her hands and schedule full. The last thing she needs is to be involved in solving another murder.
In fact, criminal activity of any sort is the furthest thing from her mind on the day she leads the Risky Business Adventurers on a slightly more strenuous hike than her Paint and Shine art expeditions usually entail. The members of the RBA are up for the challenge, though, and with Ranger Austin Morgan to assist, Miranda is confident of getting the group safely up the Battleship Rock Trail so that they can sketch the gorgeous view from the top of the Indian Steps. Unfortunately, their trip is cut abruptly short when one of the RBA hikers accidentally falls into a pile of weathered bones.
Miranda is soon convinced that the remains belong to her cousin Howard Cable, who disappeared without a trace five years earlier. With Howard's mother, Miranda's Aunt Ora, begging her to investigate, Miranda has a hard time not getting involved. Austin doesn't want her placing herself in harm's way, but they know that Sheriff Richard Larson is facing both severe budget constraints and enough paperwork to hamper even a fully-funded force and could use all the help he can get.
With all this as impetus, Miranda and Austin start quietly looking into the case together. The more they learn about what happened to Howard, though, the more they suspect that the members of the RBA are a lot more involved with his disappearance than they're letting on. Could one of them possibly be a killer ruthless enough to try to bury Miranda and Austin alongside a past full of murderous secrets?
I loved how Miranda uses her background in fine art to help her solve mysteries as well as the large-hearted lack of prejudice she has in common with her mother, Dorothy. While occasionally overbearing, Dorothy is genuinely charming, and I'm hoping she stays through the next novel so we can see her relationship with Ron, the itinerant handyman, continue to develop. Miranda's interactions with her neighbors and friends are also such a delight to read, especially in combination with the rural Appalachian setting.
There was a wealth of recipes included here, with three moonshine cocktail recipes and four for snacks. After some consideration, I decided to try out this one:
Old-Fashioned Corn Bread
Serves 16
Ingredients
1 tablespoon bacon drippings
2 cups cornmeal or 1 ½ cups cornmeal and ½ cup flour
1 teaspoon baking soda
1 teaspoon salt
1 tablespoon sugar (optional)
1 large egg (optional)
1 ¼ cups buttermilk
6 tablespoons unsalted butter, melted
Instructions
Put the bacon drippings in a 9- or 10-inch well-seasoned cast iron skillet and put the skillet into the oven. Then turn the oven on to 400° F with the skillet inside. (If you don't have an iron skillet, you can use an uncovered Dutch oven or a metal cake pan.)
Whisk together all the dry ingredients (cornmeal, baking soda, salt, sugar if using) in a large bowl. In another bowl, beat the egg (if using) and buttermilk until combined, then mix that into the bowl of dry ingredients. Stir in the melted butter.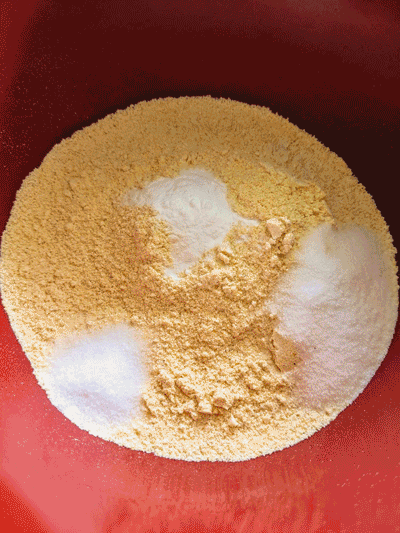 When the oven is hot, take out the skillet (carefully, as the handle will be hot!). Add the corn-bread batter and make sure it is evenly distributed in the skillet.
Bake at 400° F for about 20 minutes, or until the edges are beginning to brown and a toothpick inserted in the center of the bread comes out clean.
Let the bread rest for 10 to 30 minutes in the skillet before cutting it into wedges and serving.
To store, let the corn bread cool, then remove from pan and wrap in plastic wrap or transfer to an airtight container. Store at room temp for 2 to 3 days.
While I definitely prefer a sweeter corn bread, this was a deliciously savory version of the classic American side. Being an unbearably fancy person, I actually used duck fat instead of bacon drippings, as that was more readily available to me; I still have a jar of duck fat in the fridge from a bird I rendered earlier this year, whereas I almost always use the drippings from my beef bacon immediately in preparing a scrambled egg accompaniment.
This recipe also makes for a crumbly bread that I feel goes better with savory dishes than the sweeter version tends to. In all honesty, each wedge tasted like a wonderfully portable slice of firm grits.
Next week, we head to the northeast to try our hand at an Italian classic while figuring out another whodunnit. Do join me!