Cooking the Books: Death on the Night of Lost Lizards by Julia Buckley
Hana Keller is looking forward to her December birthday and, soon after, Christmas. As she does every year, she revels in the way that her hometown of Riverwood, Illinois, transforms into a winter wonderland. But an odd encounter in the falling snow causes her to take note of a college student's unusual behavior. When she later finds out that a professor was killed in nearby Riverwood University, she feels compelled to tell her boyfriend, Police Detective Erik Wolf, what she saw. She's sure there's a connection somehow between the two events.
Erik is now used to her burgeoning psychic powers, so he goes to investigate the dead-end alley Hana had seen the young man emerge from. He quickly finds a dumpster where a gun wrapped in a bloody jacket was stowed. Hana is relieved to be able to help her boyfriend quickly close the case—until she realizes that the young man in question is the son of one of her tea house contractors and an extremely unlikely murderer.
Hana is further shocked to realize that the murder victim was another acquaintance of hers, a fellow collector of Hungarian art with whom she was on friendly terms whenever they ran into each other while haunting local dealerships. Professor Sandor Balog always seemed so affable to her. His murder, however, exposes a darker side to the mild-mannered academic, with plentiful suspects who might have hated him enough to kill.
When the student's confession only leads to greater mysteries, Hana's art expertise becomes a crucial part of the investigation. Soon, she's teaming up with Erik to flush out a murderer. But no one likes to be cornered, and Hana might soon find the tables turned and her own life in jeopardy.
This was another winning installment in the Hungarian Tea House Mystery series, which, as a paranormal culinary cozy, hit all my genre sweet spots. Julia Buckley is a deft plotter and even better at characterization: I'm a huge fan of the entire core cast here because they're such loving, generous people. And oh, the food descriptions! I was lucky enough to get to cover the series debut when it came out in 2019 and still think fondly of that chicken paprikas recipe I made from it. I was definitely eager to try out another Hungarian recipe and chose this one of the two listed:
Magdalena's Stuffed Peppers
(Tӧltӧtt paprika)
Eight helpings
Ingredients
8 medium sized green or red peppers
½ lb ground beef
½ lb ground pork
1 cup uncooked rice
1 large can tomato juice (46 oz)
1 large onion
3 tbs shortening
1 tbs salt
½ tsp black pepper
1 cup sour cream
Instructions
Prepare peppers by carefully removing tops and seeds.
In a large pot, mince the onion and sautee in the Crisco.
Mix in the meat, dry rice, and seasonings. (You may wish to drain the grease from the meat before adding the other ingredients.)
Using the meat mixture, stuff the peppers until they are ¾ full.
Place the peppers upright in a baking pan.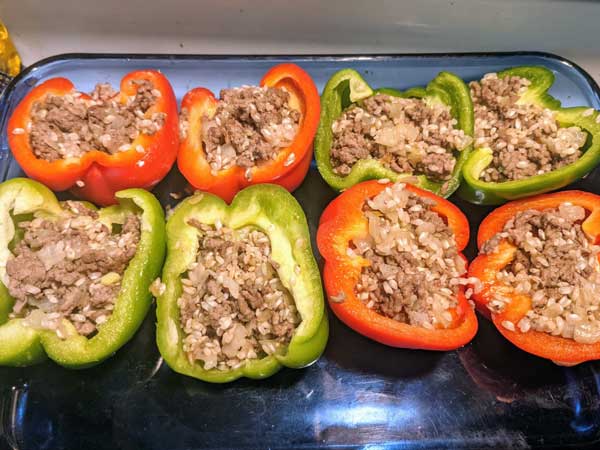 Cover with tomato juice, making sure that the peppers do not tip over.
Bake at 350° for an hour.
Your kitchen should now smell divine!
Make sure that rice is soft before removing peppers from oven.
For a truly Hungarian dish, add a cup of sour cream, then shake pan gently until the cream is mixed in to the sauce.
These stuffed peppers did not disappoint at all! I admit to wondering at the lack of additional spices, but the complexity of the meat and peppers and tomato juice was perfect with only salt and pepper for enhancement. And, of course, the excellent addition of sour cream gave it the perfect balance of flavors. I'm so grateful to Ms. Buckley for introducing me to authentic Hungarian food, which is just so delicious and undeservedly obscure.
I will note that I easily halved this recipe to feed my own household, as my children are in that obnoxious stage of dramatically refusing to eat peppers. Leftovers keep deliciously for several days, however, and I'm absolutely planning on making this dish for myself and my husband again!
Next week, we head south to make one of my favorite picnic foods while investigating a death by stabbing. Do join me!