Cooking the Books: Death of a Knit Wit by Peggy Ehrhart
The eighth book of the Knit & Nibble Mystery series finds our heroine, Pamela Paterson, looking forward to enjoying the fruits of her labor at nearby Wendelstaff College's fiber arts conference. She's successfully convinced the magazine she works for to sponsor a knitting bee to be held all weekend at Sufficiency House, a historic home bequeathed to the college and used as both a museum and information center promoting home gardens and garment-making. Since knitting is one of her favorite pastimes, she's anticipating a soothing weekend of camaraderie and crafting with new friends and old.
The first hint of trouble in the conference's otherwise smooth sailing occurs when keynote speaker Dr. Robert Greer-Gordon Critter is publicly upbraided after his speech by his ex-wife for stealing her ideas for his latest book. Dr. Critter is due to drop in on the knitting bee Pamela is hosting immediately after, so Pamela is further discomfited to overhear another of his former lovers engage him in a heated conversation while on her walk over to Sufficiency House. Still, she's determined to be pleasant when he arrives to chat with the knitters, despite her personal opinion of him tending now towards the unfavorable.
Even so, she's horrified when the professor begins to cough over his cup of knitting bee coffee before slumping to the ground in the throes of what looks like a severe allergic reaction. The knitters quickly call an ambulance but to no avail; Dr. Critter has been poisoned and no one, bar the murderer, is quite sure how.
Pamela's boss is less than pleased at their magazine being associated with an unsolved murder, leaving Pamela to worry about her job security. That's a large part of why she—with the assistance of her neighbor and best friend, reporter Bettina Fraser—starts looking into who might have wanted to kill Dr. Critter. The two women learn a lot more than they bargained for while navigating the almost feudal world of university politics in the course of their investigations. But can any amount of learning save them when a murderer decides that they know too much?
This interesting mystery plot was laced through with Pamela's concerns for not only her job but also her budding relationship with Wendelstaff lecturer Brian Delano. Their slow-burn relationship is a delight, and I'm really rooting for their happiness. I do wish introverted Pamela would cut Bettina a little more slack, though; her best friend only wants the best for her and, of course, wants the gossipy little details of her dates, as any best friend would.
In addition to the knitting instructions included for a simple hat was one delicious recipe, which I've edited here for length.
Plum Turnovers
Ingredients
4 or 5 large, ripe plums
1 cup flour 
½ tsp salt
½ cup of butter (a little over 5 tbsp), allowed to warm up and cut into small bits
2 tbsp cream cheese (1 oz), allowed to warm up
2 to 3 tbsp ice water
8 tsp sugar
1 egg, for the egg wash (optional)
Instructions
First, peel the plums. In order to do this easily you will blanch them. Bring a pot of water to boil and prepare an ice bath. With a small knife, cut an X in the bottom of each plum. Lower the plums into the boiling water. Let the water return to a boil and leave the plums in for 60 seconds. Remove them with a slotted spoon and lower them into the ice bath. Leave them for a minute or so.
Use a sharp paring knife to peel each plum, starting at the center of the X. Now cut the flesh away from the pits. You should end up with 3 to 3 ½ cups of plum. Cut the chunks into small pieces no larger than a kidney bean.
Sift flour and salt into a medium-sized bowl. Using two knives, cut in the butter and cream cheese until the mixture resembles pebbly sand. Toss with a fork while you sprinkle on 2 tbsp of ice water. Add more ice water until the dough comes together in large clumps. If dry spots remain, use a little more ice water.
With floured hands, push the dough into a compact disk. Wrap in plastic wrap and refrigerate for ½ hour. 
Butter a large baking sheet.
Unwrap the disk of dough, cut it into 8 sections (like slices of pie), and press each into a ball.
Liberally flour [your work] surface. Put a dough ball on the rolling surface, sprinkle it with flour, and flatten it slightly with your hands. Flour your rolling pin and roll the dough ball into an oval about 5" by 7". As you work, turn the dough over frequently and sprinkle more flour on it and on your rolling surface.
Scoop ½ cup of plum pieces onto the dough oval. Put them nearer to one end rather than in the middle, but leave an inch or so between them and the edge. Sprinkle a tsp of sugar over the plum pieces. Moisten your index finger with water and dab water around the edge of the dough oval at the end with the plums on it. Carefully fold the other end of the dough oval over the plums, lining up the edges and pressing them together. Push at the edges to form a ridge. Use the tines of a fork to seal the edge, then use the fork to poke several holes in the top of the turnover.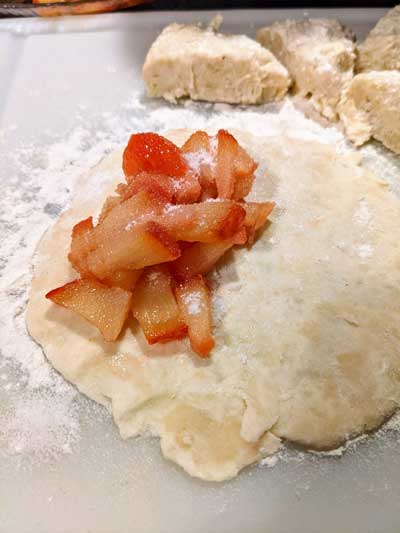 Carefully transfer the turnover to the baking pan. Repeat the process to make 7 more turnovers.
Beat the egg with a splash of water to make an egg wash and brush it over the tops of your turnovers. You can skip this step, but the egg wash makes them glossy.
Bake the turnovers for 35 minutes at 350°F. Some juice will escape and the egg wash will bake onto the baking pan around the edges of the turnovers.
Loosen them with a pancake turner a few minutes after you remove the baking sheet from the oven.
This was a super-yummy, not-too-sweet baked treat that my whole family loved. The pastry itself is possibly the best I've ever tasted and a recipe I'll carry with me to future endeavors. I used about 6 tbsp of butter, as the directions get a little murky there, and think that made for a very rich crust with the cream cheese. My lack of facility with rolling out dough did make it easier for me to eschew using a fork to vent the pastries, as holes naturally occurred when I was stretching the dough over, but I don't think the end result was at all unattractive.
Next week, we head to the Midwest and optimistically make a warm-weather soup while investigating yet another knitting-related murder. Do join me!