Cooking the Books: Class Reunions Are Murder by Libby Klein
I was genuinely surprised when I went to the Kensington Cozy Club Mini-Con a few months ago and realized that I had never heard of Libby Klein or her Poppy McAllister series before then. Luckily for me, Ms. Klein had a hilarious slideshow presentation at the con that convinced me to grab at least the first book in this series and review it for this column as soon as I could.
So here we are! Class Reunions Are Murder debuted in 2018 but is set roughly four years earlier. Our heroine, Poppy, is still grieving the death of her late husband, John, when she gets an invitation to return to her Cape May hometown for her high school's 25th-anniversary reunion. Poppy has spent decades avoiding home and is only persuaded to attend by an SOS call from her best friend, Sawyer Montgomery. Poppy doesn't want to go—she "drew the fat straw," as she calls it, and has only put on more weight since John's death six months ago—but her old friends need her to help them put on a show of solidarity against the popular crowd who made their lives so miserable back in the day. Plus, Sawyer's ex-husband, Kurt, will likely be there with his latest girlfriend, and Sawyer could use all the emotional support she can get.
Poppy's first surprise upon arriving in Cape May happens even before she meets up with her old friends. Her Aunt Ginny, who basically raised her after her father died and her mom checked out of parenting, still lives in the same beautiful house Poppy grew up in. But the house is in a state of growing disrepair, and Aunt Ginny herself is being evaluated for competency by the local social services department. Aunt Ginny insists she's fine, but Poppy can't help adding this to her growing list of anxieties as the night of the reunion approaches.
At the reunion itself, consummate mean girl Barbie Pomeroy Clark lives up to her high school reputation and provokes a physical altercation with Sawyer. When Poppy later finds Barbie's corpse lying in front of her old locker, she thinks the night couldn't possibly get any worse—until she's arrested on suspicion of Barbie's murder by one of Barbie's old besties. Now Poppy has to figure out how to clear her name, help her aunt, and perhaps most challenging of all, start feeling comfortable in her own skin.
Fortunately, Poppy has plenty of pluck as well as supportive friends and family to help her in all these endeavors. I laughed so many times reading this book as Poppy gets into any number of relatable, embarrassing scrapes. I even cried within the first few chapters, as there are many genuinely emotional scenes. Some of the jokes definitely landed a little differently in 2023 than they might have in 2018, but I am absolutely invested in seeing how the series has evolved since then—especially given Poppy's commitment to continue improving herself. 
Part of this commitment involves adopting a restrictive diet to deal with her newly diagnosed autoimmune disorder. The seven recipes included in this culinary cozy all conform with Poppy's paleo diet and are absolutely delicious even for us gluten-eaters. For this column, I decided to try out a relatively simple crowd-pleaser.
Guacamole
Ingredients
2 perfectly ripe avocados, scooped out (Avocados should be firm and not squishy or soft–but yield to gentle pressure. Not hard as rocks. You can also flick off the nubby stem that is usually still attached. If the indentation is yellowish-green and not dark green or brown, the avocado should be ripe.)
1 lime, juiced
2 shallots or 1 small yellow onion, chopped fine
1 teaspoon sea salt
1 handful cilantro, chopped fine
Optional:
1 jalapeno seeded and chopped fine–be very, very careful with this and wear gloves
1 ripe tomato, diced small–I call this optional because I don't want it in mine.
Instructions
You can scoop all ingredients into a bowl and mash with them fork–or pulse for a second at a time in a food processor.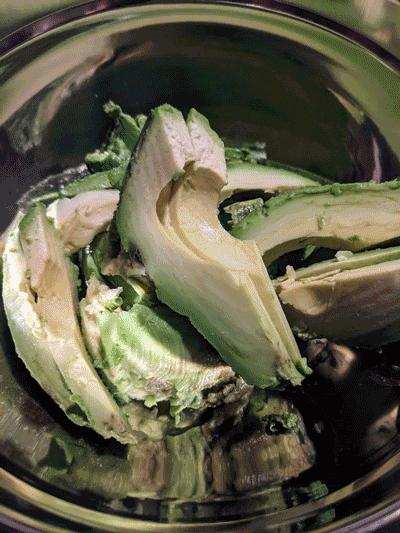 If you go the food processor route, you don't have to chop your ingredients as fine from the start, but you do have to be careful that you don't go too far and make avocado puree.
Since my lovely assistant Karin was actually present to sample this, I skipped the jalapeno, as she doesn't do spicy. To be honest, I didn't miss it at all myself, as this recipe (with tomatoes) is already so flavorful! I did use garlic salt instead of sea salt, as is my wont—this not only cuts down on sodium but adds the deliciousness of garlic—and tossed in freeze-dried cilantro instead of fresh, but I doubt that these modifications changed the flavor too far from the author's intent. This was such a hit at my family Christmas gathering that it was the very first dish to be finished on our appetizer sideboard. This guacamole recipe is fast, easy, and tasty. I highly recommend it for making a delicious anytime snack or condiment.
Next week, we hop north a bit for another series debut while baking up a sweet family specialty. Do join me!