Cooking the Books: Christmas Scarf Murder by Carlene O'Connor, Maddie Day & Peggy Ehrhart
Kensington Books' latest seasonal collection of culinary cozy novellas is perfect for curling up with a hot beverage and taking a much-needed holiday break!
Carlene O'Connor's Ireland-set tale opens the book and gives the collection its name. Fans of her Irish Village Mystery series will be thrilled to see familiar characters here. Our heroine, Siobhan O'Sullivan, is still getting used to married life with her husband and fellow garda, Macdara Flannery. The newlyweds are looking forward to celebrating their first Christmas together when they're called in to investigate a spate of robberies at the local elder care home. The items are of questionable value, but when one of the home's young volunteers is strangled to death with a scarf that was reported stolen, our detecting duo will have to go undercover to find and stop a killer desperate to get away with more than just murder.
The second novella, Scarfed Down by Maddie Day, takes us to Indiana for a twist on the typical murder by holiday gear. Robbie Jordan, the heroine of the Country Store mysteries, is happy to allow a small group of crafters to spend extra time at their table knitting after their weekly breakfast at her restaurant, Pans N Pancakes. But when one of them is found dead and her Aunt Adele's handspun yarn is implicated in the murder, Robbie will find herself facing down a ruthless killer in her quest to clear her beloved aunt's name.
The final story here is Death By Christmas Scarf by Peggy Ehrhart, author of the excellent Knit & Nibble series featuring a knitting club of the same name. The club is shocked by the strangulation in broad daylight of a fellow town resident. Worse, the murder weapon was a scarf handknit by one of their own and subsequently donated to a benefit for the local animal shelter. When a longtime anonymous benefactor of the shelter is arrested for murder, no one in the club believes that she could possibly have done it. Our heroine, Pamela Paterson, will have to put together the clues to find the real killer while avoiding the wrath of her only daughter, who hates it when Pamela puts herself in danger by investigating crimes.
These were all very satisfying mysteries, with an excellent amount of cozy character interactions. My favorite of the three was likely Death By Christmas Scarf, as Ms. Ehrhart constructs a terrific fair-play mystery that had me kicking myself for not seeing the motive sooner.
There were four recipes and a knitting pattern included here in addition to the entertaining stories. I really wanted to try this spin on the traditional holiday roast, provided by Ms. Day:
Roasted Chicken And Pears
Ingredients
2 large carrots, peeled and cut into 1-inch chunks
2 small red onions, cut into inch-wide wedges
2 tablespoons red wine vinegar
2 tablespoons olive oil
1 teaspoon dried thyme
Coarse salt and ground pepper
2 tablespoons chopped fresh parsley
4 boneless chicken breasts and 4 boneless thighs (about 2 pounds total)
1 tablespoon honey
3 firm, ripe Bosc pears (about 1 ½ pounds total), halved, cored, and cut into ½-inch-thick wedges
Instructions
Preheat oven to 375 degrees. On a large rimmed baking sheet (or two small ones), toss carrots and onions with vinegar, 1 tablespoon oil, and ½ teaspoon thyme. Season with salt and pepper.
In a small bowl, combine parsley and remaining ½ teaspoon thyme. Season with salt and pepper. Carefully slide fingers under chicken skin to loosen. Spread parsley mixture under and on top of skin. (If you have skinless chicken, pat the mixture into the meat.) Push vegetables to edges of baking sheet; place chicken pieces in center, and roast 30 minutes.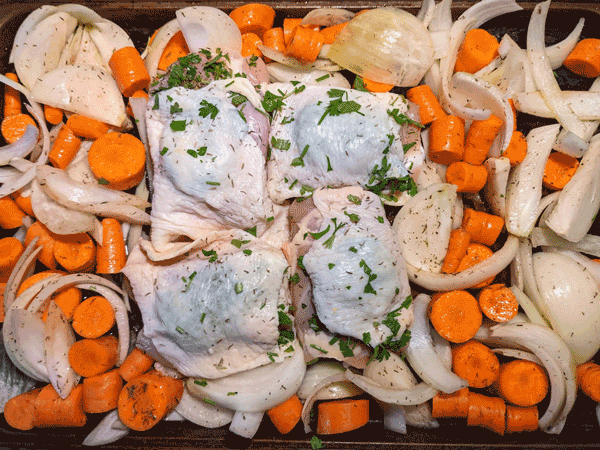 Meanwhile, in a small bowl, combine honey and remaining tablespoon oil. Remove baking sheet from oven. Add pears and toss with vegetables to combine. Brush top of chicken pieces with honey mixture. Roast 30 minutes more or until a thermometer inserted in thickest part of thigh registers 175 degrees.
Serve immediately.
Inspired by the partridge in a pear tree line from the "12 Days Of Christmas" carol, this is a knockout dish that provides a terrific twist on the more typical roast turkey or beef served at the holiday table. The sweetness from the pears and honey adds a delicious caramelization to the chicken and vegetables. You could even add diced potatoes to the pan for a complete one-pan meal. The only thing I'd actually recommend doing differently here is seasoning your chicken with salt and pepper even before stuffing with the parsley mixture. The parsley is very tasty baked into the chicken, but the meat itself could use that little extra flavor overall.
Next week, we head to Vermont for a satirical take on sleuthing and politics while baking up a craveable dessert. Do join me!