Cooking the Books: Christmas Cupcake Murder by Joanne Fluke
Like the last Christmas-themed novel in this series, Christmas Cupcake Murder takes place in our heroine Hannah Swensen's past—this time about a decade before the current point in the series. Hannah is finally getting her mother, Delores, to look into renting a space in which to finish, and perhaps sell, Delores's massive collection of antiques. While looking at a likely property, Hannah, Delores, and Delores's business partner, Claire, stumble across the unconscious body of a drifter Hannah had helped out just a short while earlier.
They immediately rush the poor man to the hospital, but unfortunately, he has no idea of either his name or how he'd gotten there. Doc Knight suspects that the severely malnourished Joe Smith, as they're calling him, was the victim of a traumatic brain injury resulting in selective amnesia. Whether the injury was accidental or deliberate is anyone's guess, though the more the townsfolk of Lake Eden get to know him, the more they suspect the latter.
This isn't because of any personality defect of Joe's—to the contrary, Hannah and her friends find him polite and kind, which only increases their determination to help him figure out who he is so he can return to his own family and friends. But the more they uncover about his past, the more troubling the circumstances of his amnesia seem. When Hannah ingeniously figures out a way to pinpoint where he might be from, their investigations become a race against time to stop a would-be killer from getting away with murder!
Spending time in Lake Eden with Hannah and her crew is an unfailing delight, though it is a bit jarring to go back in time and see Hannah being so blasé towards Mike and Norman both (as a fervent member of #TeamNorman, I've become convinced that the latest books point her in his direction, so I am a wee bit impatient at anything else). Most of the action in this book is concentrated towards the end, when Hannah hits on her inspired solution and onward, but it's nice getting reacquainted with the people of Lake Eden in the lead up to that and to see more of their lives from a decade or so ago. Delores is awful, as always, but everyone else—including the slightly scandalous and hilarious new girl Rachael—is fun to be around.
And, as always, there's a wealth of recipes included! Of the over 20 recipes listed here, I decided to try out this intriguing cookie recipe. My lovely assistant Karin and I have a running joke that oatmeal raisin cookies are the reason we don't trust blindly, so I really wanted to see how an oatmeal cookie with actual chocolate chips in it would taste.
Milk Chocolate Oatmeal Cookies
Preheat oven to 325 degrees F., rack in the middle position.
Ingredients
1 cup salted butter (2 sticks, 8 ounces, ½ pound)
1 cup white (granulated) sugar
1 cup powdered (confectioners) sugar
2 teaspoons vanilla extract
½ teaspoon salt
2 teaspoons baking soda
2 large eggs, beaten (just whip them up in a glass with a fork)
2 and ½ cups all-purpose flour (pack it down in the cup when you measure it)
1 cup (half of a 12-ounce by weight package) milk chocolate chips
1 cup dry oatmeal (I used Quaker Quick 1-Minute Oats)
½ cup white granulated sugar for rolling dough balls
Instructions
Before you start to mix up this cookie dough, prepare your baking sheets by spraying them with Pam or another cooking spray. Alternatively, you can also line them with parchment paper if you prefer.
Place the butter in a large microwave-safe bowl.
Turn the microwave on HIGH and heat the butter for 1 minute. Leave it in the microwave for another minute of standing time and then check to see if it's melted. If it's not, give it another 15 to 20 seconds on HIGH with an equal amount of standing time.
When the butter is melted, set the bowl or measuring cup on the kitchen counter.
Place the 1 cup of white sugar in a large mixing bowl.
Add one cup of powdered sugar to the bowl and mix the two sugars together.
Pour the melted butter over the sugars and mix it in. Continue to mix until it is evenly blended.
Add the vanilla extract and mix that in.
Add the salt and mix that in.
Measure out the 2 teaspoons of baking soda and sprinkle that into your bowl. Then mix it in thoroughly.
Feel the sides of the mixing bowl. If it's not so hot it might cook the eggs, add them to your bowl.
Mix the eggs in thoroughly.
Measure out the flour, making sure to pack it down in your measuring cup when you measure it.
Add the flour to your mixing bowl in half-cup increments, mixing thoroughly after each addition.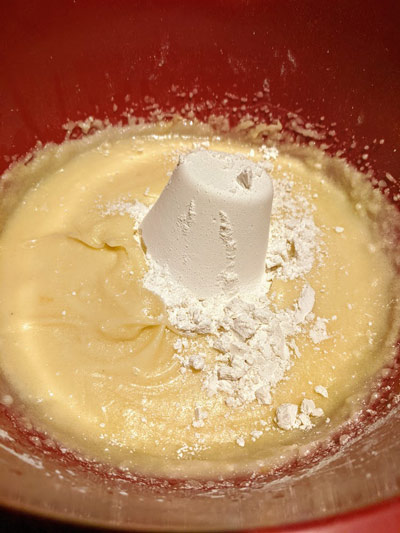 Add the cup of milk chocolate chips to your mixing bowl. Stir them in thoroughly.
Measure out the oatmeal and place it in the bowl.
Mix in the oatmeal until everything is combined.
Place the ½ cup of sugar in a small bowl. You will use this to coat the dough balls.
Roll the dough into walnut-sized balls.
Place the balls in the bowl with the sugar to coat them.
Arrange the sugar-coated dough balls on a prepared cookie sheet, 12 to a standard-sized sheet. (If it's too sticky to roll, place the bowl in the refrigerator for thirty minutes and try again.)
Use the palm of your impeccably clean hand to squash the cookie dough balls down slightly. That way they won't roll off the cookie sheet on their way to the oven.
Bake your Milk Chocolate Oatmeal Cookies at 325 degrees F. for 10 to 12 minutes. Remove the cookies from the oven and cool them on the cookie sheet for 2 minutes. Then transfer the baked cookies to a wire rack to cool completely.
Yield: 6 to 7 dozen, depending on cookie size.
I suspected even as I baked that using steel-cut oats instead of instant would be a mistake. While they didn't render the result inedible, I still feel that these cookies were less a melding of the traditional oatmeal with chocolate chip and more sugar cookies that I'd happened to add both chocolate chips and oatmeal to, with somewhat indifferent results. I mean, this is definitely a unique twist on your standard cookie, and I'm sure if I'd used instant oatmeal, it would have come much closer to the usual, beloved texture. I just didn't enjoy this as much as I usually do Joanna Fluke's recipes. Let me know if you try this recipe out at home and get a better result! I'd also recommend baking only 12 to a cookie sheet, as she suggests; these cookies definitely spread.
Next week, we stay in the midwest to check out a fun candy recipe while solving a dreadful murder. Do join me!