Cooking the Books: A Catered New Year's Eve by Isis Crawford
Welcome back, loyal readers and new! I thought we'd start the new year with a thematically appropriate mystery that features a perfect seasonal accompaniment for us to cook at home while enjoying a fun, cozy read.
When a relative from an estranged branch of their family comes asking our heroines, Bernie and Libby Simmons, for help, the sisters are reluctant to say no despite their father Sean's misgivings. Ada Sinclair is in her early 20s and was, thus, a child when the original rift took place. Now, she's grown and desperate for help in solving the mysterious deaths of her father and his business partner a decade earlier.
Ada has recently uncovered a diary her father kept, and she's sure it will help her flush out a killer when she gathers all the relevant parties for their annual New Year's Eve celebration. She wants to hire the Simmons sisters to cater the event and keep a sharp eye out for clues, as she's well aware of their reputations both for fabulous food and insightful investigations.
Impulsive Bernie is all in, though her older sister, Libby, is more cautious. Still, it's a job—and it's for family, however distant. The sisters plan out a delicious spread and are only slightly thrown off by the chilly reception they receive from the other members of the Sinclair clan. Professional to the core, they serve dinner, pass out champagne for the midnight toast, and examine the party-goers for revealing reactions when Ada reads out passages from the diary. Even so, they are caught off guard when one of the attendees drops dead and Ada hares off into the snowy night.
Sean wants his daughters to leave well enough alone, but Bernie and Libby can't resist when they receive a phone call from a terrified Ada begging for help. When another body is found, echoing the death of Ada's father's business partner years before, and Ada herself is accused of murder, the sisters will have to decide how far they're willing to go for family.
I thought this novel had both a really well-written beginning, when the stage was set for all the shenanigans to ensue, and denouement when the plot threads came together to reveal whodunit and why. The middle, however, is fuzzier, and I was firmly in Libby's camp as she grew increasingly exasperated with her reckless little sister. Overall, it was an entertaining read, though likely not the strongest installment of this bestselling series to date.
A Catered New Year's Eve includes three recipes, two for variations on the lentil soup traditionally served for good luck on New Year's, and one for a steamed honey cake that also serves a similar purpose. I really liked the look of the first recipe, so I decided to give that a go:
Lentil Soup
Ingredients
1 very large onion (or two medium ones, chopped)
¼ cup olive oil or more if needed
2 large carrots, diced
2 large stalks celery, chopped
3 cloves garlic, minced
1 teaspoon dried oregano
1 bay leaf
1 teaspoon dried basil
1 (14.5-ounce) can crushed tomatoes
2 cups uncooked lentils
8 cups water (or 1 quart water and 1 quart low-salt chicken broth)
½ cup spinach, rinsed and thinly sliced
2 tablespoons vinegar or more to taste
Salt and ground black pepper to taste
Kielbasa, ½ standard ring. Optional, although the soup is more popular with than without. If using peel, slice and cut those slices into smaller pieces.
Instructions
In a large pot, heat oil over medium heat. Add onions, carrots, and celery and stir until onion is tender. Stir in garlic, bay leaf, oregano, and basil. Cook for 2 minutes.
Stir in lentils and add water and tomatoes and kielbasa. Bring to a boil. Reduce heat and simmer for at least one hour.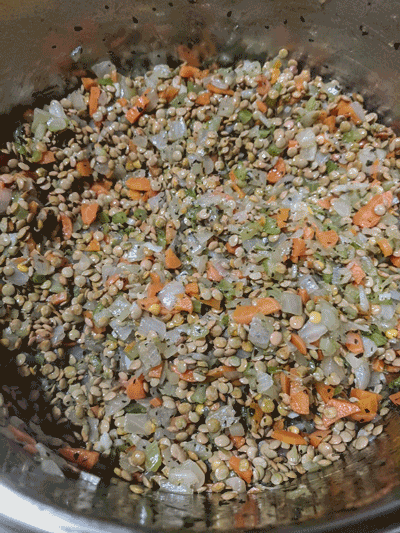 When ready to serve stir in spinach and cook until it wilts.
Add vinegar and season to taste with salt and pepper and more vinegar if desired.
This is a really terrific dish that I would be proud to serve at any time of year. My lovely assistant Karin and I both love a good lentil soup, and this is undoubtedly one of the best versions for it we've ever had. It helps that the recipe itself is quite straightforward, featuring easily obtainable ingredients. I honestly wouldn't have known how easy beef kielbasa was to acquire (it's a supermarket staple, who knew!) if it hadn't been for this recipe.
This is also one of those soups that only gets better after sitting overnight in the fridge. I served this—whether fresh or reheated—with ciabatta rolls toasted with olive oil and more chopped spinach as a garnish, and it felt like a complete and wholly delicious meal every time. This was a terrific dish to kick off our new year, and we hope you try it out at home (and share your results with us) too!
Next week, we head to Maine for the latest from one of my favorite cozy mystery authors while trying out her recipe for one of my favorite chocolate treats. Do join me!