Cooking the Books: Candy Slain Murder by Maddie Day
The Christmas holiday season is ramping up in South Lick, Indiana, and Robbie Jordan—owner-operator of the restaurant, country store, and B&B, Pans 'N Pancakes—is busy trying to keep up with demand on all her business fronts. When a handsome young man comes in looking for her assistant, Danna Beedle, Robbie isn't the only person shocked to discover that Danna has a half-brother she never knew about. Apparently, their mother had given up her baby for adoption after his father was killed in a tragic accident. Now, Marcus has come looking for his birth family, and perhaps the wariest person involved is Robbie, who is related to the Beedles only by mutual affection. While she wholeheartedly approves of family reunions, she can't help feeling protective of her large-hearted young assistant.
These concerns are swept aside, at least temporarily, by the shocking discovery of a skeleton in the attic of the burned-out house of local doctor William Geller. All signs point to the skeleton being all that's left of Tina, the wife who allegedly ran out on him a decade ago. The sudden death of Tina's twin sister, Toni, a woman who never liked William, muddies the waters further—especially when the disagreeable William gets into a loud altercation with Marcus at Pans 'N Pancakes, all but accusing the newcomer of murder.
Robbie doesn't want to investigate but can't help getting involved either. As she tries her best to limit her inquiries to the most seemingly harmless, she begins to worry that a killer might be tracking her movements. Is it just paranoia making her see assailants in the shadows? Or is someone really out to stop her for good, as ugly truths and rumors surface about the residents of South Lick and their loved ones?
So on the one hand, I really enjoyed how Maddie Day stresses inclusion and grace in her story, even bringing in several Muslim characters, who are few and far between in the culinary cozy genre: kudos for even thinking of us! I wasn't super thrilled by their actual representation, though, particularly of the half-black Muslim with stereotypical anger-management problems. While I can see where Ms. Day was perhaps trying to play on the prejudices of certain of her readers in order to drive home how Muslims are no more or less violent than the average non-Muslim, I didn't care for the way vague reports of an angry past were used as a reason to cast doubt on one person's character—especially when contrasted with the "there's good in everyone" grace extended to the avowed current member of the Ku Klux Klan! I very much admire much of Ms. Day's writings, especially in the Quaker Midwife series she writes under the name Edith Maxwell, but I found myself dismayed by the blithe "Why can't we all just get along?" attitude here that covertly apportions equal blame to victims for conflicts instigated by their oppressors. Harmony and unity are wonderful aims but should never come at the expense of every person's right to equal participation in a fair and free society, regardless of religion or race.
That aside, this was another entertaining installment of the series that included, as always, a good number of recipes featured in the narrative. Of the six, I decided to try out this one:
Teriyaki Chicken Wings
Ingredients
2 cloves garlic, minced
5 ounces sugar
½ cup soy sauce
1 teaspoon grated fresh ginger
1 tablespoon sherry
2 pounds chicken wings or wingettes (the tiny drumstick parts), trimmed of excess fat
Instructions
Line the bottom of a broiler pan with foil and place slotted top or a rack on top.
Combine garlic, sugar, soy sauce, ginger, and sherry and stir until sugar is dissolved.
Add chicken and mix, then heat through in a large skillet on medium until chicken is tender, turning frequently.
Drain, nice to broiler pan top or track, and finish under broiler until crispy.
Serve warm or at room temperature.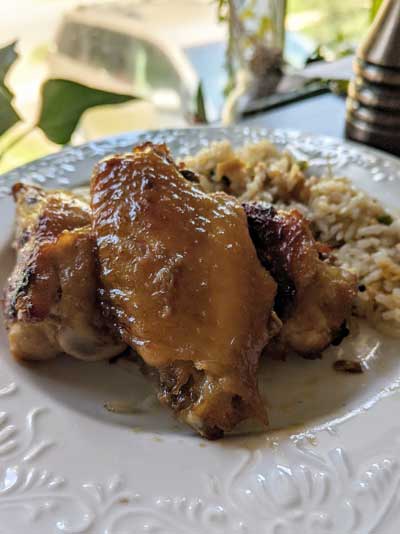 This was an extremely delicious dish! Of course, I added more garlic, as is my wont; this recipe certainly allows for a little tweaking that way. I do wish more precise timing had been given for the instructions, though. I wound up cooking the chicken on the stovetop for 15 minutes, then putting the wings under the broiler for about seven minutes on each side. While the chicken that resulted was super tasty, it didn't come out quite as crispy as I'd liked. Other recipes online recommended the time I used, and since I didn't want to burn anything by going for much longer than I did, I had to make do with chicken that was delicious but less crispy than I'd prefer. A clearer guideline from the get-go would have been very helpful. That said, the sauce was so very crave-able, and I definitely saved it to go with a side of rice for the wings.
Next week, we continue with our Christmas slate of culinary cozies by making the cutest cookies while catching a cunning killer. Do join me!