Cooking the Books: An Appetite for Murder by Lucy Burdette
In this very first book of the Key West Food Critic Mystery series, our heroine, Hayley Snow, hasn't yet acquired her dream job as a food critic but is very much enamored of her new home at the southern tip of Florida. She moved down to the island just a few months earlier to live with her new boyfriend, Chad, a well-to-do divorce lawyer whom she'd met while stocking shelves in a New Jersey bookstore.
Unfortunately, New Jersey Chad was a whole lot different from Florida Chad. Hayley was doubly crushed not only to find him cheating on her but also to find herself homeless once he unceremoniously dumped her belongings out on the curb. To rub salt in the wound, he didn't even give back all her stuff, keeping the things most priceless to her, including a set of family recipes handwritten by her grandmother.
When a newly launching newspaper, Key Zest, announces that it's hiring for its food section, Hayley jumps at the chance to apply. Alas, the owner is none other than Kristen Faulkner, Chad's new girlfriend. Hayley is determined to do her best regardless, but her plans are seriously derailed when Kristen is found dead, poisoned by a key lime pie that the cops think Hayley baked for her romantic rival. Hayley's attempts to clear her name—and reclaim her stuff—make for madcap hijinks until a murderer realizes she's getting too close to the truth and puts her life in mortal peril too.
It was really great to meet Hayley as a young woman finding her feet in one of the most beautiful places on earth, even if being accused of murder is hardly the rite of passage most other people have to undergo in their mid-20s. As always, Lucy Burdette's loving descriptions of the island and the local food made me long to immediately book my tickets south. I also enjoyed the flashes of social consciousness, especially from feisty Miss Gloria, whose role in this series debut is smaller than in the following books but definitely as memorable.
An Appetite for Murder includes three mouth-watering recipes. I decided to try out this savory dish after our recent run of sweets:
Hayley Snow's Leaning Tower of Eggplant
Ingredients
2 medium eggplants, sliced lengthwise
2 large tomatoes, sliced (Don't bother with this dish if they aren't in season.)
1 ball fresh mozzarella, sliced
Vinaigrette (see note)
Greens, washed and torn, and arugula for the top
Instructions
Slice the eggplant and salt it, leaving it to rest for 20-30 minutes.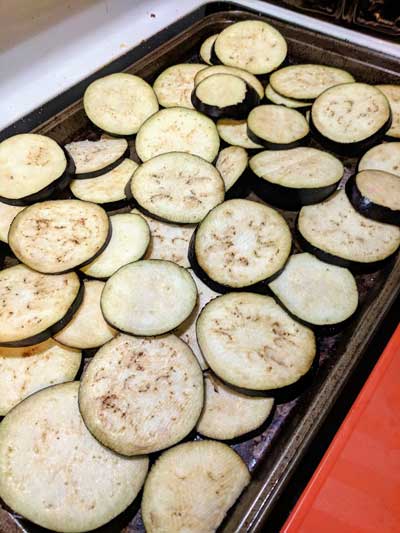 Once the liquid beads on the salted slices, wash and dry them; then dip them in beaten egg, followed by flour, and fry in hot peanut oil. (Keep fried eggplant in a warm toaster oven while you continue frying.)
When your eggplant slices are nicely browned and still warm, layer them alternately with fresh mozzarella slices (fresh is crucial—the rubbery white stuff won't do) and the garden tomatoes on a bed of greens. Sprinkle shredded arugula over the top and drizzle with vinaigrette. Serve while the eggplant is warm.
Note: For vinaigrette, whisk 1 tsp good quality mustard with 1 tsp sugar and 1-2 tsp water and whisk until smooth. Whisk in a half cup good quality olive oil until oil mixture is emulsified. Add balsamic vinegar to taste (usually ¼ to ⅓ cup) along with salt and pepper, and whisk again.
Having cooked my way through her more recent books, I must say that Ms. Burdette's mastery of recipe-writing has definitely improved since this first novel was published. I always prefer when all the ingredients are listed up front instead of casually mentioned in the directions, as they are here.
Fortunately, this recipe more than makes up for that flaw by producing something incredibly delicious. I'm not a huge fan of vegetarian dishes ordinarily, but this is by far one of the best I've ever tasted, much less cooked. It's a bit labor intensive but is very much worth it, resulting in a gorgeous platter of healthy food that, I quipped to my lovely assistant Karin, felt very much like vegetarian Thanksgiving.
I did make a few tweaks to the recipe, however. As you can see, I decided to cut the eggplant into rounds instead of ovoid slices, which does make for a dish that's less Leaning Tower than Gentle Hillocks. I also seasoned the beaten eggs (I wound up using three) as well as the flour (about a cup) with salt and pepper. In addition, Karin thought it was silly of us to wash the salt off the eggplant slices—thereby reintroducing moisture—so we merely wiped them instead prior to battering and frying. I venture to suggest that these tweaks only improved upon what was already a very solid recipe.
Next week, we stay in Key West to make another tasty appetizer while sleuthing with Hayley in her latest mystery. Do join me!