Cooking the Books: Against the Currant by Olivia Matthews
Ever since she was a little girl, Lynds Murray has wanted to open a Caribbean-style bakery in her Brooklyn neighborhood. After a post-graduate degree and time in the marketing trenches, she's finally saved up enough money to open the store of her dreams. With the help of her parents, her brother Dex, and her formidable Granny, she's all set to launch Spice Island Bakery, serving baked goods, savory breakfast, and lunch-menu items six days a week.
Unfortunately, a neighboring baker isn't at all pleased by this new competition. Claudio Fabrizi is a bit of a carpetbagger, having come from outside the neighborhood and doing little to ingratiate himself with his clientele. But he's cornered the market on higher-end European pastries, so he shouldn't feel threatened by Lynds's shop, located several blocks away from his own. Alas, he doesn't see it that way at all and makes it a point to cause huge scenes just as Spice Island is opening for business.
When Lynds ends one such scene with a warning that could be construed as physically threatening, she's roundly applauded by her clientele—none of whom have taken to Claudio's high-handed manner. Her hard-won sense of bravado wavers significantly, however, when the cops knock on her door the very next day. Claudio has been murdered, and she's just become their prime suspect.
Lynds's family, friends, and regular customers all assure her that they know she had nothing to do with Claudio's murder. But when her name is linked to it in the local paper and businesses start canceling their catering orders, she realizes that she'll have to take action or kiss her fledgling bakery goodbye. Soon enough, she's attracted the attention of the real murderer, who won't hesitate to kill again. Will even Lynds's formidable kickboxing skills save her from a calculating killer with a gun?
This was a very relatable contemporary culinary cozy that takes care to lay out the thought processes of our heroine as she gets caught up in amateur sleuthing despite the risks. Lynds is an introvert who's had to work hard—with the help of self-defense courses taken since childhood—to learn how to stand up for herself and the people she loves. I really enjoyed spending time with her over the course of this novel. And, oh, the descriptions of Caribbean food had me craving bakes and roti and curry throughout and well after. If you love Caribbean food as I do, you'll adore this book. And if you haven't yet been introduced to this wonderful cuisine, then you are in for a real treat!
There are two recipes included from Lynds's home island of Grenada, and I decided to try out this one:
Currant Rolls
Ingredients
2 ½ tablespoons brown sugar
½ teaspoon ground cinnamon
1 egg
1 tablespoon milk (optional)
1 puff pastry sheet
4 tablespoons butter (melted)
1 ½ cup dried currants
Parchment paper
Baking tray
Instructions
Mix together brown sugar and cinnamon in a bowl. Set the bowl aside.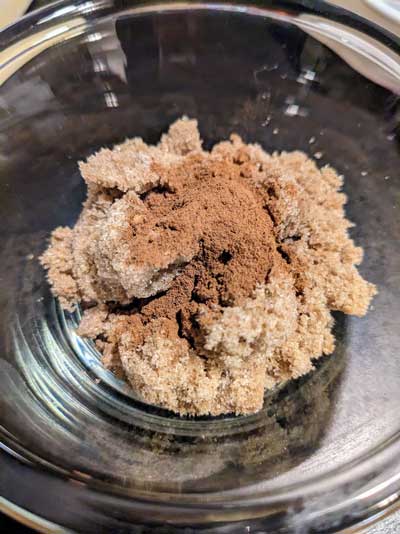 Mix together egg and milk in a bowl. Set the bowl aside.
Preheat oven to 375 degrees Fahrenheit.
Allow the puff pasty to thaw in the fridge until soft enough to work with but still cool to the touch. On a flour-dusted surface, use a rolling pin to roll the puff pastry into a rectangular shape about 2/10 of an inch thick.
Brush half of the melted butter over the surface of the dough.
Sprinkle the currants evenly across the surface of the dough. Then sprinkle the sugar and cinnamon mix on top of the currants.
Following the long side of the rectangle of dough, roll everything tightly into a log shape. Put the seam side of the log on the bottom to help keep it closed as it bakes in the oven. Cut the log into two pieces. Place both pieces onto a parchment-lined baking tray, seam side down.
Brush the egg-and-milk wash over the surface of each of the two halves of dough.
With a fork, poke a few holes over the surface of each log.
Put the tray on the middle rack. Bake for 25 minutes.
Remove the logs. Brush the remaining melted butter over both logs. Place the logs back into the oven for 5 more minutes.
Place the logs on a cooling rack. Once they are cooled, cut the logs diagonally into serving-size pieces using a serrated knife. NOTE: Use a gentle motion to cut through the logs without destroying the pastry.
I honestly don't know what my husband was thinking buying gluten-free puff pastry at the store, which is fine as far as pastry goes but tends not to have that flaky lightness that really sets baked goods apart. That aside, this is a very easy-to-put-together recipe that comes out beautifully, with a rich flavor from all the butter. One thing I might do differently next time is push the currants into the pastry a bit instead of just sprinkling them to help encourage the dough to embrace the dried fruit. Of course, this might be a trait of the gluten-free stuff being less yielding than regular.
Next week, we travel even further north to make an unusual, and outstanding, sandwich while investigating the mysterious murder of a man about to marry. Do join me!