Book Review: To Fetch a Felon by Jennifer Hawkins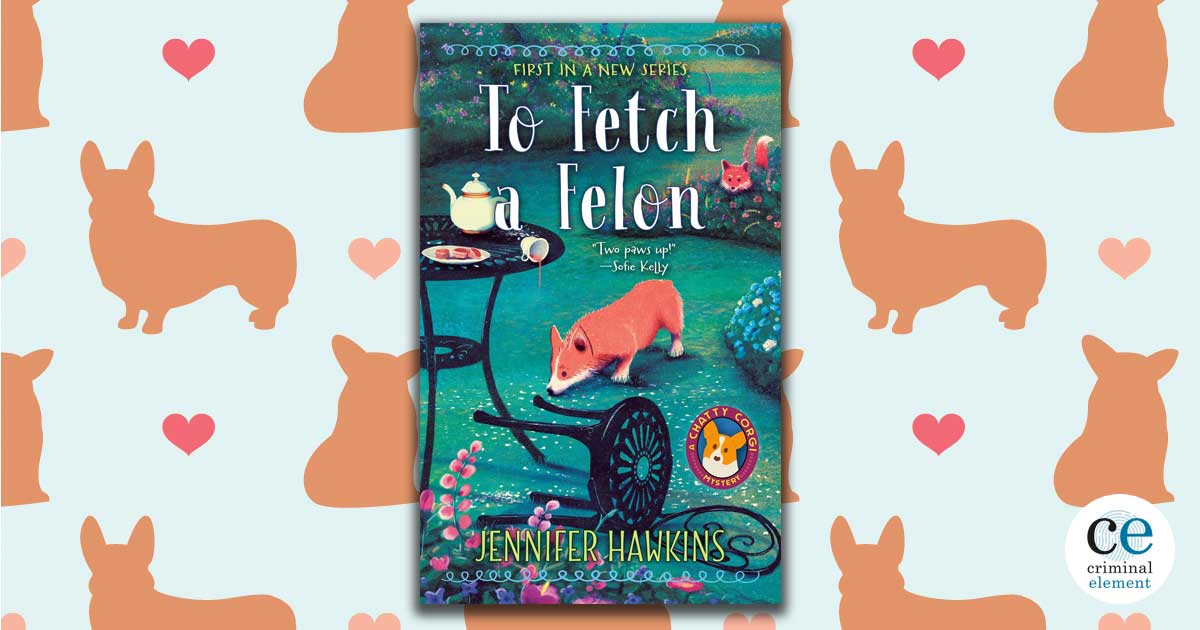 Emma Reed and her beloved Corgi move from London to Cornwall with the dream of opening a tea shop—but first, they'll have to collar a criminal in the first book in a cozy new series.
After two decades working in The City, Emma Reed has decided to quit high finance and move to the small Cornish town of Trevena to pursue her real dream: operating a tea room in the same seaside resort town where she once spent idle childhood summers reading Daphne du Maurier and imagining illicit goings-on beneath the sunny, tranquil surface of her surroundings. With her intrepid Pembroke Welsh Corgi companion Oliver, she's determined to find a place to live and hopefully be able to rent the very same site, now shuttered, in which she whiled away long afternoons drinking tea and observing passersby.
Unfortunately, the former Penhallow's tea shop is owned by village curmudgeon Victoria Roberts, who not only manages to get into an argument with Emma on the latter's first day in town but also engages in another loud and public altercation with two of her supposedly nearest and dearest, nephew Jimmy Lambert and best friend Louise Craddock. Victoria is very much against the encroachment of Londoners on her hometown, particularly vilifying Emma's real estate agent, Maggie Trenwith, as a harbinger of evil. So Emma knows she's got a difficult path ahead of her in trying to persuade Victoria to let her reopen Penhallow's, even before she hears the rumors about the death that may have happened there decades before, a death that Victoria may know far more about than she lets on.
However, Emma hadn't thrived in her previous career by being a shrinking violet, even if her life till now hasn't been as much her own as she's wanted:
Emma's life up to this point had been about making sure other people–ber brother and his family, her parents, all the little overprivileged boys at work–had what they needed. She'd helped take care of her nieces when they were young, then cared for her parents while they aged. Even her choice of a career in finance had been a compromise. It was a way to follow in the family footsteps while still asserting some independence. It had also, incidentally, allowed her to gather a nest egg big enough that she had been able to help the family during the last financial crash.

But now her parents were gone, her nieces were on the brink of leaving for uni, and Henry was talking about taking on a new partner at the accounting firm. Emma wanted to build something new, something that was fully hers, and she was choosing to not waste any opportunity to get what she wanted.
Deciding to go on a charm offensive, Emma uses the kitchen of the B&B she's temporarily staying in to bake a sample tray of goodies to help win Victoria over. It's thus a huge shock when she arrives at Victoria's cottage to find the older woman dead, apparently poisoned by something in her tea, if Oliver's excellent sense of smell is to be believed. You see, Oliver is able to talk to Emma, though no one else can hear him; neither can Emma communicate directly with other dogs. She and Oliver have a weird and wonderful relationship, which they'll need to rely on as they find themselves more and more involved in investigating Victoria's death.
Emma definitely has her misgivings about digging into who would want Victoria dead and why. When disgraced journalist and fellow B&B guest Parker Taite tries to enlist her help in uncovering the truth, in part so he can help resurrect his own career, Emma hesitates. Fortunately, Oliver is around to help her sort out her conflicting emotions:
["]Why am I even thinking about trying to get involved?"

Oliver came trotting out and plopped down beside her. "Are we staying here?"

"Here in the B&B?"

"Here, this place, this town, here." Oliver woofed. "You like it here?"

"Yes, I do. I like it a lot."

"Then that's why." Oliver poked her gently with his nose. "You care about this place, and your humans, and you want to keep it safe. You want to be a… a… guard human."

"But what if I make things worse?"

"What if you make things better?"
Oliver is a delightful companion, a fully-fleshed out canine sleuth who is an always-loyal warrior dog first and foremost, or at least intends to be. He makes a fine sidekick to middle-aged, determined Emma, whom I enjoy so much as a cozy heroine, in part because of the somewhat unusual perspective she brings to the genre. Most heroines are either decades younger or older, so it's refreshing to see someone with her combination of personal and work history embark on a nearly brand new life, starting a business and sleuthing all at once. I also really enjoyed the ending: it isn't exactly what Emma imagined when she thought of her future in Trevena, but it's arguably better.
This debut novel in the Chatty Corgi series effortlessly blends a woman's drastic midlife career and environment change with a solid murder mystery and a dash of paranormal pet communication. It's unique and intriguing and full of heart, and I'm looking forward to seeing where the series goes next.