Book Review: Nice Girls by Catherine Dang
Nice Girls by Catherine Dang is a pulse-pounding thriller debut that resonates with current affairs, exploring the hungry, angry, and dark side of girlhood.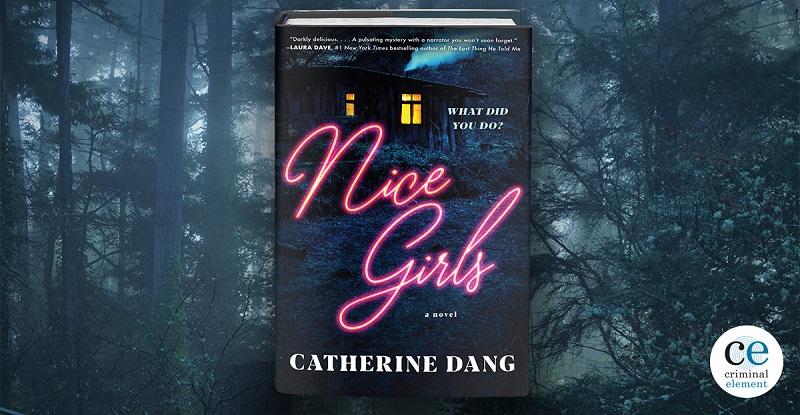 Mary thought that getting accepted to Cornell University would help her blow off the dust of the Minnesota hometown where she'd grown up so miserably. Her local paper even did a feature on "Ivy League Mary," as she was nicknamed right before she left. Her college acceptance gave her a social cachet that she'd never had before despite her academic accomplishments. She'd been unpopular, shy, and fat in high school, so going to Cornell was a transformative experience for her in at least one respect:
I learned to embrace my hunger. It kept me sharp, awake, and focused. It kept me thin, and it kept me pretty.

Not beautiful or gorgeous or hot, but pretty. It was a petite word compared to the others, not fiery or elegant or definite. But for so many people, it was enough. To be pretty was enough.

[…]

The world was less forgiving of its fat, ugly women. I knew that from firsthand experience. At best, people ignored you. At worst, they insulted you. Your existence was barely tolerated. By virtue of your looks, you had nothing to offer. It didn't matter if you were smart, thoughtful, or funny—no one listened. No one cared.
Alas, her stint in the Ivies is cut short when a perfect storm of circumstances finds her expelled in her senior year. After slinking back to Liberty Lake, she's forced by her disappointed dad to find a job and start paying back her student loans. Mary is reluctant to face the people she still so desperately wants to impress, but gets a job at a local grocery store anyway, putting her in the orbit of former star high school quarterback Dwayne Turner. The two form a bond over unspoken collegiate disasters, and Mary starts thinking that maybe being back in her hometown isn't the worst thing after all.
But then her childhood best friend Olivia Willand disappears while home on a break from college herself. Mary had been avoiding Olivia, who'd turned inexplicably cruel to her during junior high. While rich, beautiful Olivia didn't seem to have stratospheric academic prospects, she was by all accounts happily enrolled at the University of Minnesota. More interestingly, she had a ton of followers on Instagram who enjoyed watching the vivacious blonde document her world travels with cute but relatable snapshots.
Mary is reluctant to join the search parties for her former friend but is drawn into the investigation anyway when she and Dwayne are among the first on the scene of the grisly discovery of a human arm washed ashore on the icy banks of Liberty Lake. The arm, however, does not belong to Olivia, but to DeMaria Jackson, a young single mom who'd gone missing several months earlier. While the police insist that the two cases aren't related, Mary isn't so sure. Her well-meaning efforts to find out more expose a hypocrisy that DeMaria's mother Leticia is all too happy to expound upon:
"I've got reporters lying to me so they can get a good story," said Leticia. I flinched as if she'd just slapped me. "I've got others who didn't care. My story wasn't interesting enough, so they dropped DeMaria like trash. She was only mentioned in the news a few times. No one ever talked about her again."

"Then I've got the police lying to me that they care about the case. That they're 'working on it.' It's taken them months to work on it. But no progress. But when Olivia Willand goes missing, we've got the damn national news, cable news covering her. We've got search parties and the FBI. When Olivia is found dead, not even a week goes by before they make an arrest on her case."
As Mary ties her self-esteem, wrecked by her unfortunate college career, to figuring out the facts of this case, she finds herself increasingly losing touch with everyone she's tried, even fitfully, to connect with since her return. Worse, a killer will stop at nothing to keep murderous secrets buried deep in the Minnesota cold. When it comes time for a showdown, will the fire of Mary's rage help her survive a wintry ordeal?
As Catherine Dang convincingly rolls out the layers of her plot, I found myself totally second-guessing whodunnit in the second half of the book. The twists come quickly in this frank look at modern social issues of worthiness. Mary is an intriguing protagonist, deeply relatable in her insecurity and her desire for justice. While her anger management issues can be off-putting, it is refreshing to read of a woman whose rage allows her to overcome the conditioning that causes many of us to shy away from inconveniencing, much less harming, others, even when our own survival is at stake. Nice girls, this book tells us, are an idealized construct that make it allowable for those in power to label, control, and punish any girl who would rather stay true to herself than stifle her needs and desires in order to prop up the status quo. Add this novel to the list of thought-provoking thrillers that question what it means to matter in 21st century America.