Book Review: Murder, She Edited by Kaitlyn Dunnett
Kaitlyn Dunnett's Murder, She Edited is the newest book in the Deadly Edits series. In this mystery, freelance editor Mikki Lincoln must get her facts straight about an old murder on the premises of her rundown property outside of sleepy Lenape Hollow, New York,—before the killer returns to meet the next deadline!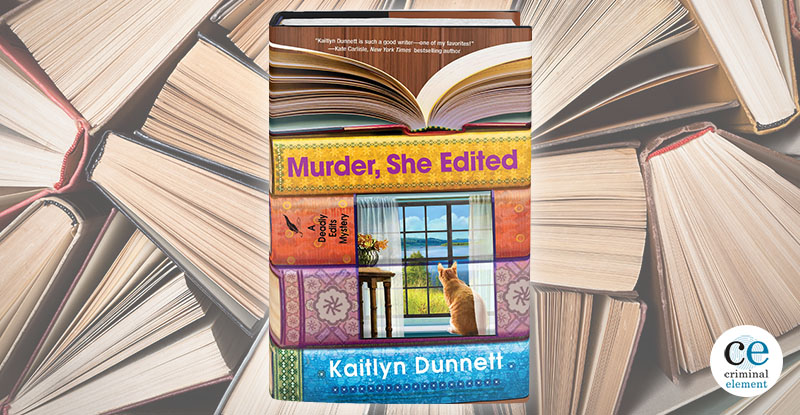 A lawyer surprises our heroine, septuagenarian Mikki Lincoln, with news that an old family friend has recently passed away, bequeathing to her a farming property a short distance away from her own Lenape Hollow, New York home. Literally old: Tessa Swarthout was a friend of Mikki's mom, and passed away at the ripe old age of 102. Mikki is flattered to be remembered, until she learns that there's a catch. In order to keep her inheritance, she must polish and publish certain diaries she'll find on the property within a month's time of being informed of the bequest.
This is right up Mikki's professional alley. As a freelance editor, she knows all about taking a manuscript and making it ready for market, even in a fairly short amount of time. What's less her forte is figuring out exactly where the diaries are, given the absurd lack of clues left for her by Tessa. Mikki loves a mystery, but going through a rustic farmhouse and outbuildings with a fine-tooth comb would be a challenge even for a much younger woman.
Fortunately, she has several young people in her orbit who are happy to assist in the exhausting physical work of searching for the elusive diaries. It's her cousin Luke, however, who asks the obvious question after a visit to the rather rundown estate: is all this work worth it?
Tessa's family farm was a relic out of another century. Fixing it up to the point where someone could actually live there would not be cheap. At the very least, all the wiring and plumbing would have to be brought up to code.

I have the best of reasons for knowing how expensive such upgrades are. Paying to have similar work done on my house was the reason I'd had to start a second career during what was supposed to be my retirement.

But not look for the diaries? Ignore the mysteries Tessa had left behind? Impossible!
This never-say-die attitude propels Mikki's quest to find the diaries and, in the process, solve a cold case that had clearly haunted poor Tessa, to the point of forcing the older woman to abandon the farm in the first place. Unfortunately, that same tenacity is shared by an obsessive reader who blames Mikki for typos that appeared in a beloved author's latest book. Mikki had done a favor beta reading a manuscript for a friend who writes under the nom de plume Illyria Dubonnet. In return, Illyria credited Mikki's fledgling editing business in the afterword. 
Neither of them had expected this innocent exchange of professional courtesies to rouse the ire of Bella Trent, a superfan who not only blames Mikki for "ruining" the book, but also expects Mikki to introduce her to Illyria in order to make up for the supposed transgression. Mikki has no intention of invading Illyria's privacy that way, but Bella has no such qualms, constantly calling Mikki in order to leave long, rambling voicemails of her demands, to the dismay of Mikki's visiting friend Darlene:
"Who on earth was that?" she asked after Bella hung up.

I gave her the edited version. I didn't reveal Illyria Dubonnet's secret identity and I left out the fact that I'd called the cops on Bella the one time she'd come to my house.

"She sounds… unstable."

I shrugged off Darlene's concern. "It's no big deal. If she doesn't get a response, she'll eventually get tired of hassling me and that will be that."

Had I, as the saying goes, but known.
Nothing goes quite as Mikki expects, either in dealing with her stalker or securing her inheritance, especially after Mikki finds disturbing evidence that not only pertains to the cold case but also to far fresher criminal activity on the premises of the once-abandoned farmstead. Will her friendships and quick wit help carry her through, or will she fall victim to one of the malevolent forces converging upon her through no fault of her own?
It's refreshing to read the exploits of a spry older heroine intrepidly solving cases while working her second career as an editor, with plenty of insight into the book business throughout, as well as a helpful selection of style and grammar tips at the end. It was also interesting to see where Mikki's and my opinions differed. Like Darlene, I certainly found Bella a far more serious threat than Mikki did. I also firmly believe that protest and boycotts are as much an aspect of free speech as a business owner's right to state their opinions, no matter how much Mikki complains. Freedom of speech doesn't mean freedom from criticism, after all. For the most part, Mikki's acerbic attitude is bracing, even if it does occasionally lead her into trouble. Entertaining trouble, to be sure, which is exactly what mystery readers want from a contemporary cozy series like this one.