Book Review: Midnight Dunes by Laura Griffin
Laura Griffin returns with Midnight Dunes, a romantic thriller in which a police detective and a filmmaker must team up to catch a killer.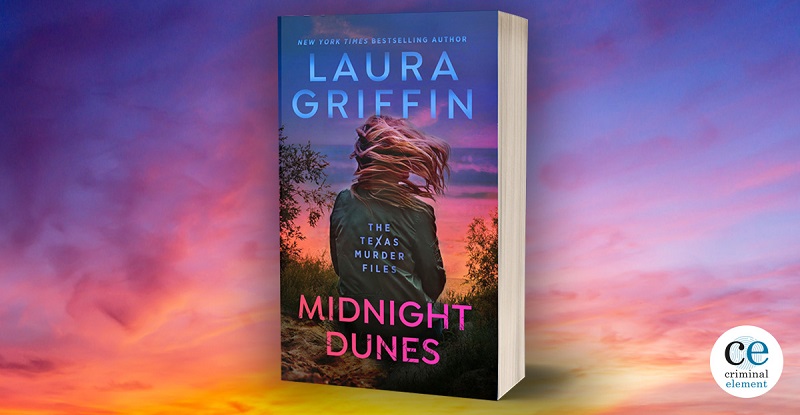 Laura Griffin is an expert guide to the uncomfortable tension between doing one's job and having a personal life. In the island community of Lost Beach, Texas, navigating tricky conflicts of interest comes with the territory. It's another gritty and imaginative romantic thriller in the Griffin canon.  
Midnight Dunes is the third in Laura Griffin's Texas Murder Files series. The modus operandi is the tension that arises from police investigations that intersect with civilians' jobs, with more than a soupçon of romantic attraction in the mix. In Hidden, the series debut, investigative reporter Bailey Rhoads is stymied in her ambition to solve the mystery of why a female jogger was methodically and precisely executed with a military-grade knife. Standing in her way is Detective Jacob Merritt, a lawman unaccustomed to collaborating with a reporter. Bailey Rhoads's sister Miranda is the heroine of Flight, the second Texas Murder Files book, which is set in idyllic, off-the-beaten-track Lost Beach, Texas (fictional but representative of beach towns everywhere facing unprecedented real estate development). Miranda is a forensic photographer transitioning to a new career as a nature photographer. Muscle memory takes over when she stumbles over a dead body early one morning and she takes countless photographs of the scene. Detective Joel Breda, once he interviews Miranda, instantly realizes how much he wants her on his team. 
Macey Burns, like Miranda Rhoads, comes to the island of Lost Beach in search of a reset. A scandal shut down her promising on-air television career but no matter, her first love is documentaries and that's her plan for her second act. The Lost Beach tourist board hires her to produce compelling commercials that will entice tourists to visit but reality intrudes on her plans. The charmingly run-down beach house she's renting was the home of Lost Beach's latest victim, Julia Murphy. Even before that grim news, her work partner Josh is appalled by her living quarters. Why isn't Bailey living in town like him?
"It's a dump," he said.

She shot him a look. "It lacks curb appeal. So what?"

"You really rented this place? Like, you signed a contract and everything?"

"The inside is nice."

"Right."
Detective Owen Breda (brother to Detective Joel Breda) oversees the Murphy case and to his surprise, finds himself encountering Macey at every turn. It's not a problem until his personal feelings for her bleed into his investigation, particularly after she's attacked. Does the murderer have her in their sights? Has Macey inadvertently uncovered a secret that the murderer would kill to keep hidden? Owen's professional responsibility is clear—to tell civilians as little as possible while trying to solve a murder case—but that doesn't work so well when the civilian is fully capable of connecting the dots.
"I want to know why you didn't mention any of this last night when you showed up with all your questions." She huffed out a breath. "You gave me some BS about talking to residents on my street."

"I was talking to residents on your street. I told you last night, we're canvassing the area."

She shot him a look. "Don't act like it's the same. You should have given me a heads-up. As a safety precaution if nothing else."

Something flickered in his eyes. Guilt? She hoped so.

"You're right." He nodded. "I apologize."

Macey drew back, surprised. She hadn't expected an apology. He'd seemed a little too arrogant to admit to a mistake.

"What would you like to know?" he asked.

She watched him silently. The apology had taken some of the wind out of her sails, and she tried to remember all the urgent questions that had been swirling through her mind on the way over here.

"Well . . ." She cleared her throat. "Can you confirm that the police were in my house after Julia went missing?"

"That's correct."
It's hard to imagine continuing to live in a rented apartment that is riddled with smudges from fingerprint powder, but at least Julia wasn't killed there. Macey draws on her inner Nancy Drew and falls back on her background as a professional journalist. Why not poke around? Her video camera is the perfect camouflage. Julia was a popular gal who hung out with some affluent folks in her off time—like real estate developers, for example—so when Owen abruptly cancels an evening date, Macey does some sleuthing at the marina. She talks her way past security and checks out the boats, ending up at the Annabel Lee, where she's serenaded by the easy sounds of Texas singer George Strait.
She wouldn't have expected a real estate developer to name his boat after an Edgar Allan Poe poem. But, hey, she'd never met the man. Maybe he was a literature buff.

"Hello?" She rested the toe of her shoe on the side and leaned forward to peer into the cabin. "Anyone home?"

George continued crooning about his exes in Texas, but apart from that—silence.

Macey sighed. Maybe she should try his office tomorrow.

"Stop right there."

She turned to see a man behind her.

In his hand was a gun.
That's Midnight Dunes all over: wry humor riddled with gut-clenching terror. It's part career re-boot, part criminal investigation, and part burgeoning relationship, all overlaid with some ripped-from-the-headlines corruption vibes. As Macey and Owen discover, there's big money to be had turning a sleepy beach community into a go-to tourist destination and the bad guys aren't looking for an organic evolution on their watch. "Show me the money" slaps up hard against the investigation of Julia Murphy's tragic death.