Book Review: Lady Rights a Wrong by Eliza Casey
As the suffragette movement sweeps England in 1912, Lady Cecilia Bates wants to march but ends up trailing a killer instead in Eliza Casey's Lady Rights a Wrong, the second entry to the Manor Cat Mysteries.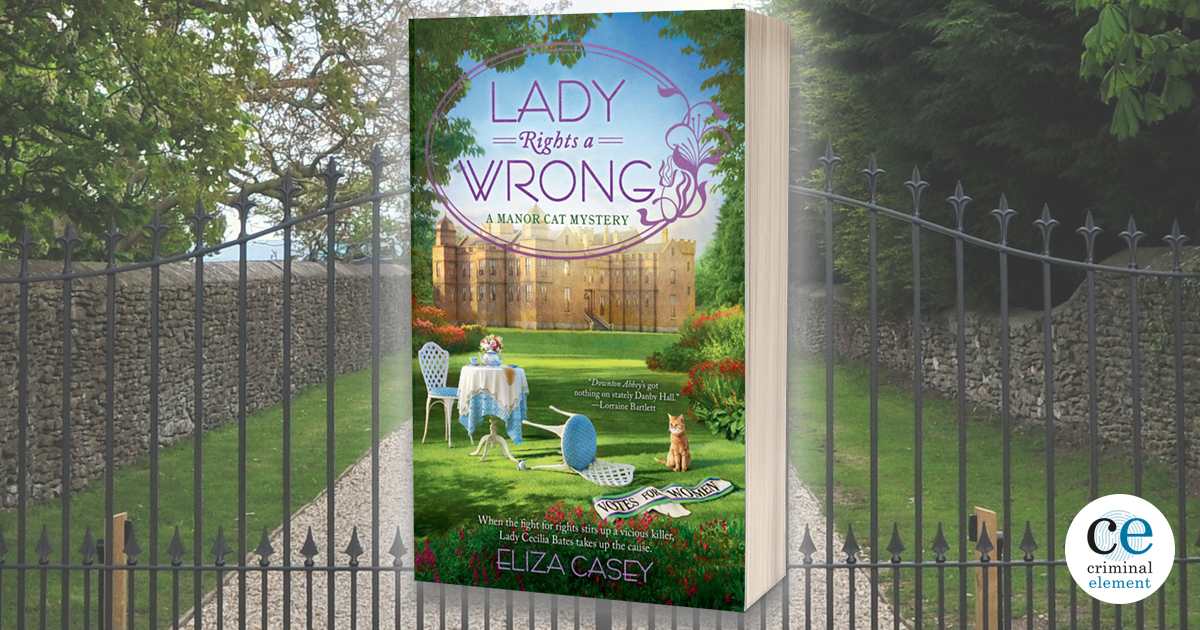 Lady Cecilia Bates of Danby Hall is a delightful heroine, level-headed, curious, persistent, and kind. Cecilia had a taste of being of service, someone of value, when she solved a murder in her own home but that was months ago.
After the excitement at Danby last spring, investigating a terrible murder in her own dining room, she had felt so—adrift. Longing for something important, interesting, to do. Choosing gowns, helping with the church fete, and listening to her mother muse about possible suitors had always held limited interest. After being a detective of sorts, it made her want to scream with boredom.
Cecilia's mother, the Countess of Avebury, is consumed with preparations for the annual fall fete, traditionally held on the grounds of Danby Hall, and she expects Lady Cecilia to be equally absorbed. But she isn't. Woodrow Wilson's words come to mind: "If you want to make enemies, try to change something." Cecilia has two allies in her quest to "be useful," Jack, her sly, perspicacious cat, and her friend Jane Burke.
The daughter of a grocer in New Jersey, Jane had started off as a chambermaid in an American hotel, but had learned all the arts of being a lady's maid very quickly. Not to mention sleuthing, and also being a good friend.
Jane is lady's maid to Miss Annabel Clarke, an American heiress, "who was maybe—probably—almost engaged to Cecilia's brother, Patrick. She was meant to save Danby from its financial problems, as well as drag the studious Patrick out of his botany laboratory and into doing his duty as Danby's heir." The similarity in plot to Downton Abbey, an estate that also needed an infusion of American heiress dollars to survive, is well-done.
Cecilia is excited that Mrs. Amelia Price, the "famous and charismatic leader" of the Women's Suffrage Union is coming to her quiet hamlet. The year is 1912, King George V has been on the throne for two years, and social change is in the air. The Suffrage Movement was intensely controversial, more divisive and dangerous than its portrayal in Mary Poppins, which saw Mrs. Banks sashaying out to demonstrate, adorned with a sash and carrying a sign.
Unsurprisingly, Lady Avebury is opposed to her daughter attending a Women's Suffrage Union meeting.
"She wants to rampage through the streets, breaking windows and chaining herself to gates."

"Cecilia wants to do what?" he said carefully.

"Oh, really now." Cecilia tossed aside The Lady, feeling ridiculously like a child again. "You are not me, Papa, as kind and dear as you are. I might have my own opinions on things, you know."

"I don't see why any lady would want to vote," Annabel said. "It's so—unfeminine. What do you think, Patrick?"
And so on and so forth but our intrepid heroine is determined to go. She asks her intelligent feline what he thinks of her outfit: "Do I look quite suitable for a suffrage rally?" While sneaking out of the house she runs into Jesse Fellows, one of the footmen. He kindly hitches "up the governess cart," so she doesn't have to walk to the village.
The village Guildhall, one of the oldest structures in the neighborhood, dignified, stolid, and square in its darkened medieval stones and cloudy stained glass windows, surely hadn't seen such excitement in years, Cecilia thought as she left the cart at the livery stable and hurried toward the entry with Jack tucked under her arm. Lights glowed from the opened doors and through the red and blue glass, and she could hear the echo of music and laughter.
Cecilia accepts a green, purple, and gold sash from a woman at the door who introduces herself as "Cora Black, Mrs. Price's secretary." When Cora learns she's speaking to Lady Cecilia Bates from Danby Hall, she becomes effusively friendly, ushering her to a seat up front. Cecilia is not insensible of the cachet an earl's daughter would bring to the suffrage movement, but her cynicism is swept aside when Mrs. Price speaks.
"I am so pleased to see such support for our sacred cause," she said, her voice soft and musical, yet carrying through the ancient hall. "Women's rights are human rights, and we must spread that message far and wide. Our daughters and granddaughters shall not suffer as our mothers and grandmothers, unable to use their full intellects and talents to achieve their dreams in life."
Cries of "hear, hear" arise from the crowd and Cecilia is lost in her thoughts, wondering what it might be like to be "free to choose," "to follow her own dreams." She is swept up by Mrs. Price and her entourage, warmly invited to visit Primrose Cottage and come to another event. It's like a revival, anchored by a mesmerizing speaker and a compelling message.
Lady Cecilia, assisted by Jane, is a natural investigator. She has an innate ability to chat with a local barmaid over a ginger beer one day and draw-out confidences over a cup of tea in an elegant drawing room another.
Cecilia gathers up her courage and tells her mother about her friendship with Mrs. Price.
"Mrs. Price is going to teach me how to ride a bicycle, Mama. I promised to call at Primrose Cottage after luncheon with Grandmama."

Lady Avebury's lips tightened. "A bicycle, Cecilia? Are you quite sure that is wise?"
Cecilia's tentative steps toward a more independent life end abruptly when Mrs. Price's broken body is found at the bottom of the stairs early one morning. Cecilia and Jane leave for the village as soon as they hear and Cecilia's detective instincts kick in. She observes the placement of Mrs. Price's body, notices that her suffragette sash is "ripped, half of it jaggedly separated from the rest and missing." Cecilia also has an extremely sensitive nose, which she puts to good use while standing behind Mrs. Price's daughter Anne.
She took a surreptitious sniff of Anne's perfume. It wasn't her mother's roses, nor the green-white scent of the letters, but something almost citrusy, like her own mother's scent. It didn't seem to be the smell left behind on the torn fragments of letters.
Lady Cecilia, assisted by Jane, is a natural investigator. She has an innate ability to chat with a local barmaid over a ginger beer one day and draw-out confidences over a cup of tea in an elegant drawing room another. One wonders how Inspector Hennesy, brought in, again, to solve a crime, feels when a young slip of a girl figures out whodunit right under his nose. Lady Rights a Wrong is Eliza Casey's second Manor Cat Mystery; delighted readers will eagerly anticipate a third.