Book Review: Impossible Causes by Julie Mayhew
New arrivals to the nearly-isolated island of Lark arouse suspicion within the island's tight-knit community, but the reluctant welcome of the long-time inhabitants shifts immediately to fear when a body is found soon after. Julie Mayhew's Impossible Causes is a gripping, claustrophobic thriller about isolation, power, and the lies that fester when witnesses stay silent.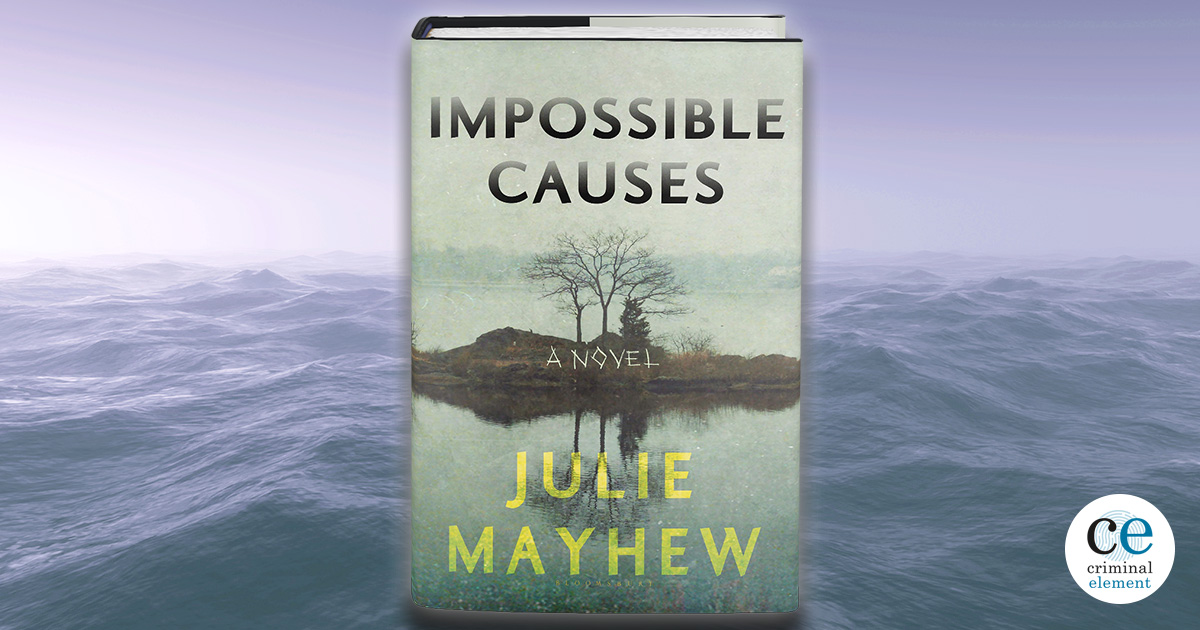 Welcome to Lark, a remote island in the North Atlantic inaccessible to visitors for seven months out of the year. Inhabited by a small, religious community, it proudly touts its safety and adherence to an almost-forgotten way of life, in an ongoing attempt to draw immigrants to supplement the dwindling local populace. Well, the right immigrants anyway: there are a lot of forms to fill out and examinations to pass before applicants may be considered a good fit. But the promise of seclusion and safety drive Deborah Kendrick to jump through all these hoops in order to secure for herself and her daughter Viola a place there in the aftermath of personal tragedy on the British mainland.
Once on Lark, however, Deborah discovers that a change of scenery isn't necessarily a panacea for her crippling depression. Though fiercely protective of her daughter, she will at least concede it safe enough for Viola to roam the small island with only her miniature schnauzer, Dot, for company. The red-headed teenager soon draws attention in a place where all the domesticated creatures are working animals: the idea of a pet is thus met with deep suspicion. The fact that Viola doesn't go to Lark's single school either sets tongues wagging, especially since the locals want her to join the top form, currently occupied by only three young women known the island over as the Eldest Girls. The same age as Viola, the Eldest Girls are beginning to exhibit worrying signs of rebellion and other deviltry. The presence of a fourth, it is hoped, will help settle them all down.
Viola has her own, more natural reasons, for wanting to befriend the girls. Who doesn't want friends their own age, after all?
And so it came to pass—three became four. The red-haired girl joined the Eldest Girls' number.

The women of the community had wished for it; they couldn't say that they hadn't.

Four corners, they'd talked of, four pillars, a wholesome union of love, faith, hope and luck—the allusions were endless. This would make the girls a balanced group, strong, with no need for illicit rituals. Though what those women failed to see was that their belief in numerology was an illicit ritual in itself. It could not be trusted, and sure enough, as soon as three became four, doubt made its way in, as slippery as an eel.
Meanwhile, another newcomer to the island is beginning to bewitch his own section of the community. Ben Hailey is the young, good-looking science teacher hired to inject new blood and new ideas into Lark, and his vitality has totally enraptured staid fellow teacher, Leah Cedars. Trouble is, she can't talk to him, and not just out of shyness. An illicit tarot card reading had heralded his arrival, and now that he's here, Leah is struck dumb by the weight of the prediction:
Around Ben, I was bound tight. I was gagged by my knowledge that he was the Knight of Cups. That he was meant for me.

I believed that unequivocally. His arrival was no coincidence, not a hopeful connection between a random card and an existing passenger list. He was a supernatural gift—and this terrified me, rendered me mute, taciturn at best. It was a disaster.
Greater disasters loom however, as Ben becomes entangled not only with Leah but with the Eldest Girls too. Viola watches, wary of the adults and their dealings with her wild and vulnerable new friends. Something terrible is happening on the island, and Viola soon becomes convinced that she's the only one who can fix it all. When a dead body is found at the pagan sacred stones the girls had claimed for their own, the simmering tensions of the island finally come to a boil, blowing the lid off the secrets its residents have been trying so desperately to hide.
Wreathed in the eerie trappings of paganism and witchcraft counterbalanced with an idiosyncratic Christianity, [Impossible Causes] examines the conspiracies of silence that can cripple an isolated community.
Julie Mayhew's Impossible Causes is a propulsive page-turner of a book that I stayed up till the wee hours to finish reading. Wreathed in the eerie trappings of paganism and witchcraft counterbalanced with an idiosyncratic Christianity, it examines the conspiracies of silence that can cripple an isolated community. Above all, it makes a case for listening to women and to victims, and warns of the consequences of choosing the status quo over making the effort for change.
This is not, however, a simplistic fable of good versus bad in the age of #MeToo. Both Leah and Viola have different approaches over how to save the Eldest Girls, and both will pay the price for their own mistakes. As in the real world, no one goes unscathed, but still, this is a hopeful and gorgeously written novel that urges readers to do the right thing because the costs to everyone otherwise are far too high.