Book Review: Hatchet Island by Paul Doiron
The eerie, windswept Hatchet Island off the coast of Maine becomes the site of a double murder and a disappearance in this thriller from bestselling author Paul Doiron. Don't miss Janet Webb's review!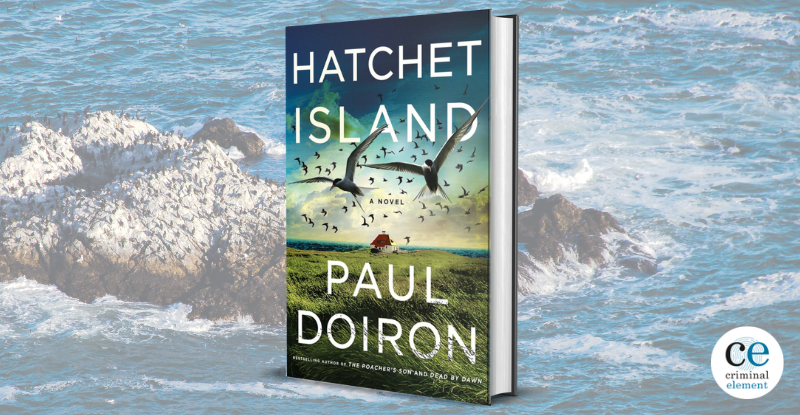 Readers have grown up with Maine game warden investigator Mike Bowditch, a seasoned warden with a preternatural talent for doggedly ferreting out the truth. It's a trait that has made him enemies in and out of law enforcement. Mike and his longtime off-and-on girlfriend Stacey Stevens are back together; she's his soul-mate but they've had some bumps along the road. 
The pair are sea kayaking over to Baker Island, a sanctuary for endangered sea birds. It's a spot that is very familiar to Stacey: she interned there as a college biology student. Kendra Ballard, Stacey's college roommate and former colleague, has asked her for help. Someone is stalking her and her colleagues. Also, Maeve McLeary, the sanctuary's founder, is missing. 
Mike's intuition, his spidey sense, comes into play when they get close to the island. 
Just then, I felt a chill go through me.

I share my home with a 145-pound wolf hybrid. His name is Shadow, and living with him has taught me that the superstition of being watched, especially by a predator, really can induce a physical sensation of fear.

I let the pounding waves turn the kayak counterclockwise until I was facing the Ayers Island and saw a gray figure standing motionless atop the cliff.
Stacey is the lead kayak and even if Mike wasn't recuperating from a dislocated left wrist, she'd be outpacing him. 
In addition to being a bush pilot, a biologist, an emergency medical technician, and a gifted photographer, she was a kayaking guide, too. Stacey Stevens was so good at so many things it made lots of men feel inadequate. I found it sexy as hell.
That said, Mike's no slouch, sometimes fearless to the point of idiocy. What's the "musky odor" in the air? It's "both pleasant and nauseating, like the perfumes one encounters in certain church pews." Stacey tells him that petrels "spit out this funky-smelling oil to waterproof their feathers." You don't have to be a member of the American Birding Association to enjoy Hatchet Island but curiosity will have you googling the birds Mike and Stacey encounter.
As they near land, they're greeted by an "improbably beautiful woman" holding a Remington V3 Sport. She isn't exactly pointing it at them but Mike's perturbed: "As a game warden, I had dealt with too many jittery, impaired, and untrained gun handlers." Even when Kendra appears, Hillary Fitzgerald reiterates that no one can step foot on the island if they're not approved by Maeve McLeary. 
"But Maeve isn't here," said Kendra. "Which is why I called my friends. We need their help, Hillary. You know how desperate the situation is. Please cut me some slack. I'm clutching at straws."
Stacey lightheartedly says, "If it's any consolation, Ken, we brought four pints of Ben & Jerry's for you in our cooler." Chunky Monkey and Cherry Garcia pave the way. Kendra tells Stacey that "Maeve is going batshit crazy." In the off-season someone "shot up the observation blinds" and short-tailed weasels were deliberately brought to the island. The "sadistically vicious" animals kill birds by tearing out their throats.
"It had to be more retribution for Maeve's involvement in the whale stuff," I said. "The hope is that the weasels will wipe out the entire seabird colony."
Maeve recently went off-island, possibly to drum up money. Their second biggest donor recently died and didn't leave the sanctuary funding. Kendra doesn't know the identity of their largest donor who prefers to remain anonymous. Lastly, the trio is "being threatened and stalked by a mysterious boatman who they suspect is trespassing on the refuge late at night." The third biologist is Garrett, a young Black man from Philadelphia. Garrett points at the boat that's stalking them and asks for help. It's a tricked-out Chris-Craft that refuses to answer his hails. When they also ignore Mike, he shouts you must be in trouble and that he'll call in the Coast Guard and the Marine Patrol to help; then "the launch's engine roared to life." Mike's hands are tied: "I can't pinch him for harassment unless he's been warned to stay away from you and defies the order."
"Pinch him?" said Garrett, pushing his glasses up his nose. "That's a colorful turn of phrase."

"It's old police lingo."

"Is it Maine lingo?"

"I don't honestly know."

"I'm curious, because, in case you haven't guessed, I'm not originally from around these parts. I need to learn the local patois if I'm going to blend in with you Mainers."

I had only known Garrett Meadows for five minutes, and I already liked him.
Garrett's ironic comment about blending brings a whiff of the story of the Black birder in Central Park to the mix. Later that afternoon, as the two men sit in a blind counting birds, a lobster boat comes by cranking up rap music and flying a Confederate battle flag, specifically to rile up Garrett. Mike is aghast to learn they do this "every damned day." Stacey's afternoon is also problematic: Kendra tells her about a brilliant young intern, Evan Levandowski, who committed suicide: "Three weeks before he was supposed to return to Baker Island, he jumped off the Penobscot Narrows Bridge." Something is very wrong on Baker Island. 
Stacey and Mike paddle away to their campsite on Spruce Island—reunited at last. In the early morning, Mike "awoke in total darkness to the sound of a distant gunshot." Because of the "bad vibe" they sensed, they return to Baker Island at first dawn. They find the bodies of Hillary and Kendra, brutally murdered and left in hideous poses by their killers. Garrett is missing. Nor has Maeve returned. The island skiff is gone. The world of Maine law enforcement soon descends on Baker Island. They tell Mike they've got it and besides, Garrett has disappeared—that's a sign of his guilt. Mike can see the law enforcement higher-ups are only too happy to tie a bow on the crime and declare a killer but he has his own theories and he's not to be deterred. In the immediate aftermath of the deaths of her staff, Maeve throws herself in the sea and dies. 
Mike deduces that there's a connection—financial and more—between Maeve and the "ruler" of a nearby island kingdom which is "owned by a world–renowned photographer and his equally brilliant wife," Justin and Brenna Speer. The folks who live on the island know much more about the deaths than they'll let on. Are they bound by a deliberate vow of secrecy? The investigation is taken out of Mike's hands but no one is naïve enough to think that will stop his inquiries. Mike interacts with all the investigators—most of whom he knows well, including what they were like back in the day and what they're like now. Men change and their personal circumstances impact their jobs, for good or ill. 
Something Garrett says to Mike resonates through this complicated, absorbing plot: "Maeve McLeary is proof of the old adage 'Never meet your heroes.'' Maeve was a hero in the birding community, as Justin Speer is to photography aficionados—but sometimes, like Garrett says, loyalty is misplaced. It's Mike's job to find out the truth.