Book Review: Falling by T. J. Newman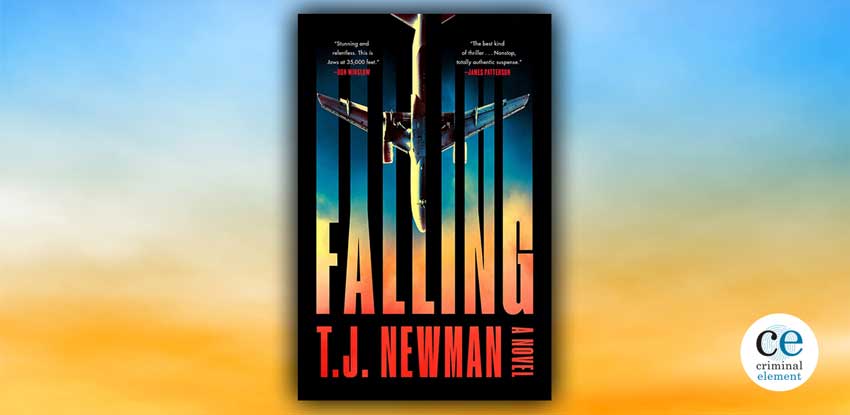 Falling by T. J. Newman is a fast-paced thriller aboard a commercial airplane where the pilot and his crew must quickly devise a plan to avoid disaster when he is blackmailed to crash the plane in exchange for the safety of his kidnapped family.
Captain Bill Hoffman is an upstanding family guy, but he can't help disappointing his wife and kids when his sense of duty insists that he pick up a flight at the request of his boss at Coastal Airlines. The flight conflicts with the opening game of his son Scott's Little League season, and while Scott is fairly bummed about it, his wife, Carrie, is even more upset that Bill's not keeping the promise he made to attend. Even so, Bill is pretty surprised that Carrie hasn't responded to any of his messages pre-takeoff, as their fights don't usually last very long. It's only when he and the plane are safely in the air that he gets a shocking video call, showing his family in restraints and strapped to explosive vests, at the mercy of a man named Sam.
Sam has an ultimatum for Bill. Either crash the plane, killing everyone aboard, or doom his family to a fiery death. Bill doesn't understand why Sam would ask this of him and tries to bargain, to Sam's amusement.
"Bill, what are you not getting? I don't want anything. I don't want money. I don't want a prisoner exchange. I don't want political leverage. This isn't 1968, man. This is not 'Take me to Cuba.' It's not QAnon looking for kids in a pizzeria or whatever other bullshit your white supremacists believe. And it's not some crazy seventy-two virgins in paradise jihad shit either. It's got nothing to do with that."

He leaned into the screen.

"All I want is to see what a good man—a good American man—does when he's in a no-win situation. What does a man like you do when he has to choose. A plane full of strangers? Or your family?"
Of course, Bill's instinctive reaction is a hard no. He won't kill a plane full of people, and he won't sacrifice his family either. But how is he supposed to prevent that from happening while in his precarious position thousands of feet in the air?
Even though Sam warns him to tell no one, Bill enlists the help of his chief flight attendant, Jo Watkins. Sam has claimed that there's a backup plan aboard the plane, but Bill trusts Jo implicitly, not only to have his back but also to keep her head in a crisis. While Bill stalls for time with Sam in the cockpit, Jo is left in charge of the cabin, to surreptitiously ready her unknowing passengers without rousing the suspicions of whoever might be Sam's accomplice. Together and separately, Bill and Jo, whose nephew happens to be an FBI agent with a history of making questionable decisions, must piece together a plan to save not only Bill's family but their innocent fellow flyers and themselves as well.
Falling is a fast-paced page-turner that reads very much like an update of the airplane hijacking subgenre so popular in the 1980s. Under the skin of this thriller, however, is a perhaps surprisingly philosophical look at the cost of American international policies. It's a heartfelt examination of why someone would be driven to carry out a suicide mission, especially in a day and age of general pushback against and disillusionment with zealotry.
Where this novel really shines however is in the way it deals with the stresses of life at high altitude. T. J. Newman was a flight attendant for 10 years and understands the demands that pilots and attendants must meet not only to ensure that their passengers have a pleasant flight but, most importantly, a safe one. Flight attendants are sometimes derided as glorified waitstaff—usually by people who don't understand how stressful the restaurant business is—but their duties involve so much more than hospitality.
Relentless studying followed by written tests. First aid and self-defense. Drilling, over and over, the evacuation of hundreds of people from a burning aircraft, or from a water landing. She and her classmates, breathless and sweating, had screamed commands until they were hoarse, orchestrating survival. They'd learned about the different kinds of fires and the different ways to fight them. Hazmat, heart attacks, hijackings. Federal regulations and federal air marshals. Turbulence. Terrorists. And all of it in a pressurized metal tube, thirty-eight thousand feet in the air going six hundred miles per hour. Five weeks of training and in only one of those days did they go over food, drinks, and hospitality.
Ms. Newman's insider eye lends a believability to the entire scenario that, combined with the story's propulsive pace, sweeps the reader along on a ride of chills and thrills. There are some gaps in the logic, but the motivations of the main characters are believable and, on occasion surprisingly, relatable. There's a lot of compassion in this entertaining debut. Ms. Newman is a talent to watch.