Book Review: Everyone in My Family Has Killed Someone by Benjamin Stevenson
Everyone in My Family Has Killed Someone by Benjamin Stevenson is Knives Out and Clue meet Agatha Christie and The Thursday Murder Club in this "utterly original" (Jane Harper), "not to be missed" (Karin Slaughter), fiendishly clever blend of classic and modern murder mystery. Read on for John Valeri's review!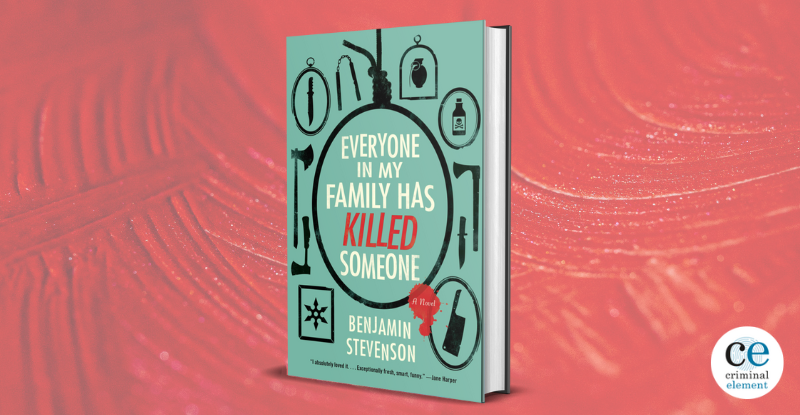 Benjamin Stevenson may not have the name recognition of the genre's heavy hitters (yet), but as a veteran of the industry, he knows what it takes to get there. Having worked for both publishing houses and literary agencies in Australia and America, he is also an award-winning comedian who has sold out international venues. Stevenson made his debut as a novelist with the Ned Kelly First Fiction Award-nominated Greenlight, which was followed by Either Side of Midnight. This January, he returns with the aspirational Everyone in My Family Has Killed Someone—The Lead Read for Mariner Books.
Our protagonist/narrator, the aptly named Ernest ("Ern" / "Ernie") Cunningham, is an author of self-published how-to books for writers (insert your "those who can't do teach" joke here) who finds himself living the kind of story that would usually be fodder for his pleasure reading. His life is upended on the night that his brother, Michael, comes calling, a seemingly dead body in the backseat of his car. Despite having reservations about it, Ernie accompanies Michael to dispose of the body—only to realize the victim (allegedly shot by somebody else before Michael accidentally hit him) may still have a bit of life in him. Until Michael snuffs those last breaths out, that is.
Three years later: Ernie is "invited" to (i.e. told to) attend a Cunningham family reunion at an isolated Australian mountain ski lodge, where Michael will soon be joining them following his release from prison. The occasion is marred by the knowledge that Ernie's testimony led to Michael's conviction (and other infighting among the various relations). Awkward! But before Michael even arrives, an unidentified body turns up in the snow, possibly a victim of "the Black Tongue" (I'm being deliberately vague here). Then there's the matter of the $267K that Michael left in Ernie's possession. And the myriad secrets and scandals that have plagued the Cunninghams since Ernie and Michael were children. Reconciling past and present is going to be the death of them. Or at least some of them.
Ernie uses Ronald Knox's "10 Commandments of Detective Fiction" (published in 1929)—conveniently included at the book's beginning (complete with a reminder to "Fold here")—as his guide to playing fair with readers. But playing fair doesn't mean giving it all away; after all, some things aren't known, at least not by everybody, and others are a matter of interpretation. Still, Ernie endears himself with his self-effacing nature and genuine desire to do right by the reader (he even provides a list of pages on which the deaths occur). Fortunately, his confidence and deductive abilities grow as the bodies begin to pile up, leading to a masterful library-set denouement worthy of Dame Agatha Christie (and the other Golden Age greats) herself.
Everyone in My Family Has Killed Someone is that rare gem of a book that feels instantly familiar yet enticingly new. Benjamin Stevenson seems like he's having a grand time of it, thereby ensuring that we do, too. Both achingly human and laugh-out-loud funny, this exceedingly clever caper reminds us that as much as we might have the urge to kill someone in our family, we might also kill for them. (Maybe we already have.) Read it once for fun and then again to see how it was done.