Book Review: Doomed Legacy by Matt Coyle
In Matt Coyle's Doomed Legacy, PI Rick Cahill is on a dangerous mission involving a sinister private detective agency, a shady shell corporation, and a dead friend. Read on for Doreen Sheridan's review!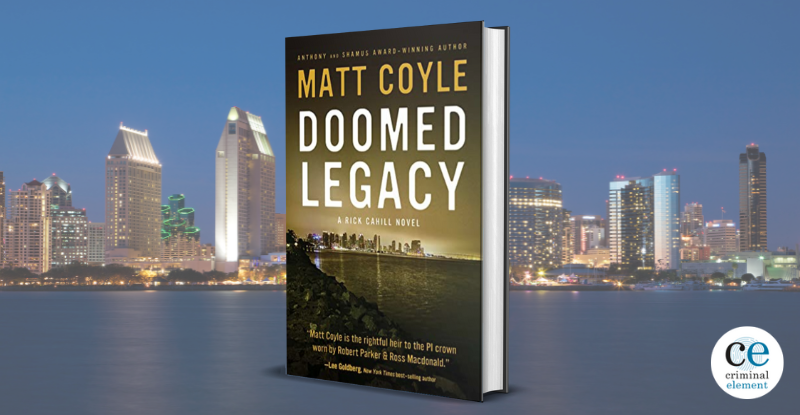 Private investigator Rick Cahill has made plenty of changes to his life since settling down in San Diego with his beloved wife Leah and their fourteen-month-old daughter Krista. As a concession to Leah's decision to move from where her design business is based in Santa Barbara, Rick has tried to keep his work desk-bound, so as to soothe her fears regarding his safety doing fieldwork. But some cases just can't be solved from his office chair.
Take the case of Sara Bhandari. Sara is Rick's contact at his biggest client, Fulcrum Security. He usually just runs background checks for the commercial side of their enterprise, with background for the military side run by a government entity. Rick and Sara's relationship is conducted almost entirely via e-mail and phone, so he's surprised when she asks to meet in person one day. Even more surprising is her request to meet at a restaurant far away from her office, as if to lessen the chance of being seen by her co-workers.
When Sara tells Rick that she has some concerns regarding another private investigator hired by her boss to run commercial background checks, an already preoccupied Rick is dismissive, considering this an issue of office politics. He promises to look into it though, so is concerned when Sara doesn't return his calls on the matter later. After a few uncharacteristic days of silence, followed by a notification of her full voicemail box, he decides to visit her at home. She doesn't answer the door, but a yowling cat inside raises his already heightened concerns:
Decision time. To trespass or not. A thought that wouldn't have entered my mind eighteen months ago. I would have gone into the backyard without a second thought. Or a first one. Moving forward. Always moving forward. Led by my sense of right and wrong. I broke the law often back then. In pursuit of the truth. My truth. Before I was married and had a child. Now such decisions had consequences for people beyond just me.

But Sara Bhandari was my responsibility. I went through the gate.
Rick is stunned to discover that the worst has happened and that Sara has been brutally killed. The cops attribute her death to a serial rapist but Rick thinks the timing is way too coincidental. Driven by guilt at not having taken her more seriously, Rick throws himself into uncovering what's going on at Fulcrum and how that might have led to her death.
Assisting his focus is the fact that Leah has had enough of his recent strange behavior, and has taken Krista to go stay with her parents in Santa Barbara. Before they were married, Rick was diagnosed with chronic traumatic encephalopathy (CTE), a degenerative brain disease that affects his memory and general functioning. While Leah is well aware of this, Rick has hidden from her the emotional effect it has recently had on him too, with the disease inflaming his emotions such that he flies into rages at the smallest things:
Things that settled spirits let go as quickly as they arose.

I did not have a settled spirit. Even years before the CTE diagnosis, my soul was scarred from the shrapnel my actions had wrought. But those actions, those decisions came after consideration. Thought. This was new. Unrecognizable and malevolent. A fury unconnected to thought. And its reins loosened from my grasp a little more with each smothered internal explosion.
Rick tries to control these rages by withdrawing, a tactic that spurs Leah to retaliate in kind. But at least the space she's given him allows him to work unencumbered, or so he believes. What will he do when his pursuit of evildoers puts innocents in the crosshairs once more, and when his desire for justice could be the final wedge in his relationship with his own family?
Rick is a very sympathetic hero as he battles with an undersung disease, trying to juggle his commitments to personal honor with his desire to keep his family together. I thought it was deeply silly of him to hide the truth of his symptoms from Leah, and thought she completely overreacted in turn—this is a couple in dire need of counseling. His professional life, though, makes for absorbing reading, as he seeks to avenge Sara and, to a certain extent, himself and the people he holds dear.
Doomed Legacy is a terrific modern PI noir that doesn't shy away from the costs of violence. For all that I complained about Rick and Leah's lack of communication, the depiction of their marriage is a realistic look at how outside stresses can ruin relationships, especially when both partners refuse to communicate. I was also impressed with how easy it was to get into this book despite it being the ninth in the series: It's a great jumping-on point for newcomers to these absorbing, award-winning novels.