Cooking the Books: Death in a Budapest Butterfly by Julia Buckley
Hana Keller is the third generation of her Hungarian-American family to run Maggie's Tea House, the popular Illinois establishment that serves European-style teas. Proud as she is of her Magyar heritage, she doesn't necessarily buy into all their superstitions—until a strong sense of foreboding before a tea service one day literally stops her in her tracks. She shakes it off, intent on showcasing her prized Budapest Butterfly teacup at the event for the Magyar Women's group, but disaster strikes when that very cup is used to poison one of the guests.
At first, the detectives in charge rely on Hana, her mother, Maggie, and her tea-leaf-reading grandmother, Juliana, to help translate Hungarian-language testimony and explain cultural peculiarities. But as the investigations continue, Hana and Detective Erik Wolf find themselves increasingly drawn to one another, even as a murderer—or perhaps one of the evil witches of Hungarian legend—prepares to strike again.
I am wildly impressed with the way Julia Buckley incorporates so much into this culinary cozy. The mystery is solidly and cleverly constructed, with an unusual motive. The romance is both sweet and believably beset with obstacles, while the mouth-watering food descriptions had me looking up Hungarian restaurants in my vicinity.
Most of all, I love how Ms. Buckley wove Hungarian legends and traditions into the narrative. It is both absorbing and, in parts, genuinely spine-tingling. With this debut, the Hungarian Tea House mystery series has jumped on my list of all-time favorites, and I'm very excited to see where it goes next.
Of course, another factor in my enjoyment of culinary cozies is the quality of the recipes included. Of the four printed, I chose to try these related two:
Chicken Paprikás
Ingredients
1 chopped onion
1 tablespoon shortening or butter
1 tablespoon paprika
¼ teaspoon black pepper
2 tablespoons salt
4-5 pound chicken, disjointed
1 ½ cups water
½ pint sour cream
Instructions
Sauté the onion in either shortening or butter. Add paprika, pepper, and salt and stir well; lay chicken pieces in pot and simmer for about 10 minutes. Add water to the mixture, cover, and simmer until chicken is tender.
Remove chicken (place temporarily on plate or platter) and add sour cream to the spices and drippings; mix well. Add dumplings (recipe below) and place chicken on top of dumplings. Heat and serve. If more gravy is required, add ½ pint of sweet cream to the sour cream mixture.
Dumplings (Nokedli)
Ingredients
3 cups flour
1 tablespoon salt
½ teaspoon paprika
3 eggs, beaten
½ cup to 1 cup water
Instructions
Boil water in a large pot. In a large bowl, whisk together flour, salt, and paprika. With a wooden spoon, stir in eggs and enough water (½ to 1 cup) to make a wet, lumpy dough. Let dough rest while waiting for water to boil.
When you have a rolling boil, lift your dough above the boiling water and, using the tip of a standard coffee spoon or teaspoon from your silverware drawer, flick round bits of dough into the boiling water. The dough will sink, so after you have flicked in several dumplings, use your wooden spoon to make sure the dumplings are not sticking to the bottom of the pot. They will almost immediately rise to the surface and float. Once you have several floating dumplings, remove your nokedli with a slotted spoon and put into a bowl, first making sure to coat the bowl in butter or oil to keep the nokedli from sticking.
Repeat this process until you have used all your dough and you have a full bowl of dumplings.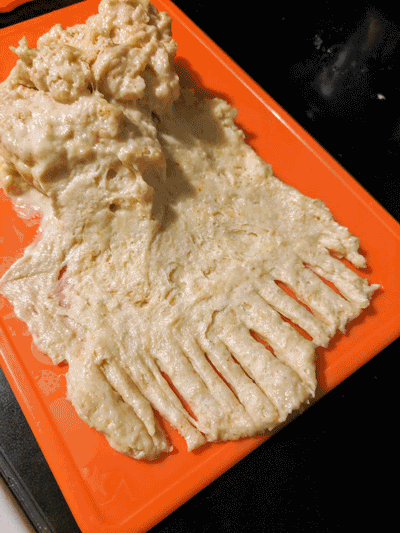 I actually watched a YouTube video of a Hungarian grandmother preparing nokedli in order to ready myself for this process, and it was very helpful! The chicken paprikás is fairly straightforward, but I definitely needed a visual aid for spoon flicking the dough.
I managed quite a decent bowl of dumplings for my first attempt, and I very much enjoyed them with the delicious paprikás. The chicken was like a wonderful, non-spicy curry, and it tasted just as good as leftovers as it did fresh. I would maybe put half a tablespoon less salt in there, but overall, it was a wonderful meal that certainly represented the best of Hungarian cooking. I did sprinkle a bit of dill for color in my last photograph, but it certainly isn't a necessary ingredient taste-wise (though, I do think it makes the dish look prettier on the plate).
Next week, we head back to my neck of the woods for some sleuthing and simple (but scrumptious) crepe-making. Do join me!