Book Review: A Crafter Hooks a Killer by Holly Quinn
Sammy Kane is busy getting ready for the arrival of superstar crafter and author Jane Johnson in her sleepy hometown of Heartsford, Wisconsin. As the owner of the town's Community Craft store—which she inherited under tragic circumstances after her best friend, the original owner, died in a freak accident—she's excited not only to host Jane's author meet-and-greet but also to be interviewed for Jane's forthcoming book.
Impressed by the craft store's dedication to serving the community, Jane wants to devote an entire chapter to Community Crafts, but she also wants to talk to Sammy privately about information she's come across in the course of her research. When Sammy finally makes her way to their agreed-upon meeting place—a secluded bench down by the river—she's horrified to find Jane dead, strangled to death with a copy of her latest book open on her lap, the words "THE END" scratched into the pages.
Combining forces with her sister, Ellie, and cousin, Heidi, the women reactivate their childhood detective agency, S.H.E. (a combination of their initials), to look into the case. Unsurprisingly, their assistance is not greeted warmly by Police Detective Liam Nash, the relative newcomer to Heartsford whom Sammy is attracted to. But the appearance of an old flame might soon take her mind off of Liam—if the grief of reopening old wounds doesn't overwhelm her first. For it seems that the information Jane had was in relation to the death of Sammy's best friend, which perhaps was not as accidental as it seemed.
I really enjoyed the heartfelt look into Sammy's emotions, particularly when it came to mourning Kate all over again. It was also interesting to see how the (honestly, not that healthy) relationship between Sammy's parents shaped her personality. Most of all, I very much appreciated how Sammy grew throughout the novel, from selfishly wanting to be in the thick of investigating to understanding that Liam's reluctance to involve her has less to do with doubt in her intelligence and resourcefulness than with fear that her untrained enthusiasm would compromise any future legal case against the murderer.
A Crafter Hooks a Killer includes a crocheted lap blanket pattern that I'll definitely be trying out once I finish my current knitting project, as well as the following recipe:
Kane Family Lasagna
Ingredients
9 lasagna noodles
½ pound hot sausage
¾ pound ground beef
1 medium onion, diced
½ of a green pepper
3 garlic cloves, minced
2 cans (one 28 ounces, one 15 ounces) crushed tomatoes or 2 quart-sized mason jars of Aunt B's stewed tomatoes (drained)
2 cans (6 ounces each) tomato paste
⅔ cup water
2 to 3 tablespoons sugar (helps reduce acid)
1 teaspoon dried oregano
2 teaspoons dried basil
¼ teaspoon salt
¼ teaspoon coarsely ground pepper
1 large egg, lightly beaten
16-ounce carton ricotta cheese
4 cups shredded part-skim mozzarella cheese
¾ cup grated Parmesan cheese
Instructions
Preheat oven to 375°.
Cook noodles according to package directions; drain. Meanwhile, in a large pot, cook sausage, beef, and onion over medium heat 8-10 minutes or until meat is no longer pink, breaking up meat into crumbles. Add garlic; cook 1 minute. Drain.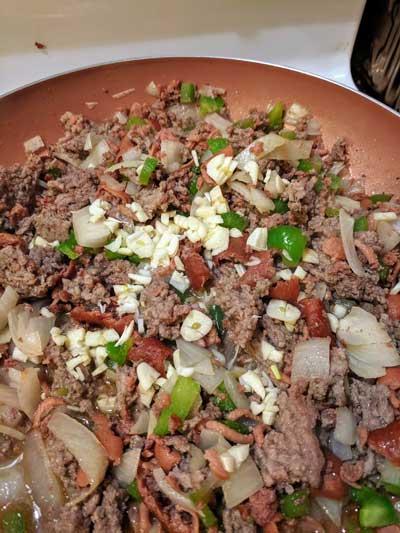 Stir in tomatoes, tomato paste, water, sugar, seasonings, salt, and pepper; bring to a boil. Reduce heat; simmer, uncovered, 30 minutes, stirring occasionally.
In a small bowl, mix egg, ricotta, and a dash of basil.
Spread 2 cups meat sauce into an ungreased 13×9-inch baking dish. Top with 3 noodles, additional sauce to cover, and a third of the ricotta cheese mixture. Sprinkle with 1 cup mozzarella cheese and 2 tablespoons Parmesan cheese. Repeat layers twice. Top with remaining meat sauce and cheese (dish will be full). Bake, covered, 25 minutes. Bake, uncovered, 25 minutes longer or until bubbly.
Let stand 15 minutes before serving.
Since my lovely assistant Karin doesn't handle spiciness well, I used a bit less hot sausage (or, to be specific, beef hot links) in this recipe than called for, making up for it with ground beef instead. I also medium-diced the green pepper and added it with the diced onion, which I'm fairly certain was the best time to do it. Otherwise, I followed the recipe to the letter and came up with a scrumptious lasagna that I'll definitely make the next time I'm in the mood for this classic dish. This really tasted the way I imagine the Platonic ideal of lasagna would taste, though if Karin isn't around, I'll likely add the recommended amount of spicy meat for that extra kick.
Next week, we travel east to catch up with one of my favorite long-running cozy mystery series and bake some yummy cupcakes! Do join me!