Book Review: And There He Kept Her by Joshua Moehling
In Joshua Moehling's And There He Kept Her, two teenagers break into a house on a remote lake in search of prescription drugs, but what starts as a simple burglary turns into a nightmare for all involved. Check out Doreen Sheridan's review!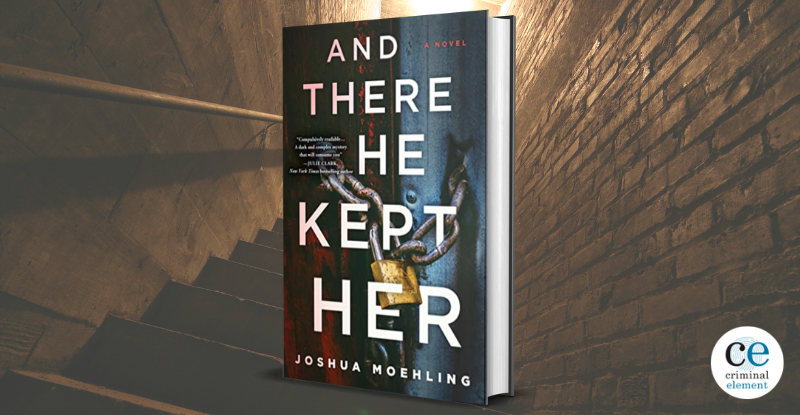 When two high school students break into a disabled old man's home one night looking for a fast score, the last thing they expect is for him to be more than a match for them. Jenny Wheeler is a good kid most of the time, but her slightly older boyfriend Jesse Crawford is desperate to find the pills he knows are stashed in the house. Things go wrong, the teenagers don't make it home, and the next morning Jenny's normally stoic mom, Susan, is calling her cousin, Deputy Sheriff Ben Packard, to report Jenny missing.
At first, Packard doesn't think it's that big a deal: Kids often lose track of time, especially when spending it with their love interests, and usually show up none the worse for wear within a day or two. Susan, however, is worried because Jenny is diabetic and hasn't taken any backup for the insulin pump she wears. Of even greater concern is the fact that the phone Jenny is usually surgically attached to is still in her bedroom.
As the days pass without any sign of Jenny or Jesse, Packard must increasingly lean on the skills he honed back in Minneapolis to investigate how the young couple could have possibly disappeared so completely. Having a missing family member, in a dim echo of his own older brother's disappearance decades earlier, weighs heavily on Packard. In addition, his role as acting sheriff makes him responsible for the safety of the entire county. The current sheriff, Stan Shaw, is undergoing debilitating rounds of chemo and handpicked Packard to take over while he's indisposed, despite Packard's lack of seniority. Packard wants to prove that this trust in him is earned, but faces a dilemma when he discovers one of Stan's grandkids might have been involved in the teens' disappearance. Gingerly, he attempts to bring up the subject to Stan, and is told:
["]Were you here when [my granddaughter] got the DWI?"

Packard shook his head. "Doesn't ring a bell."

"Pulled over with four other girls in the car. Blew .19. I think she was expecting to get off with a warning because her grandpa was the sheriff. She got the opposite. She got the full treatment. Still doesn't have her license back because she violated the terms of her parole. I personally called the judge and told her to suspend it for six more months."

Now he knew where Stan stood when it came to his grandkids breaking the law.
With this sort of support behind him, Packard feels more confident pursuing leads in their somewhat insular community, no matter where those leads might take him. But will he be able to find and rescue the kids before an unrepentant killer puts them permanently beyond his reach?
The surprises come thick and fast in this excellent small town police procedural, as Packard has to race to save the teenagers even while he's being drawn in sixteen different directions trying to do his job, and often the jobs of others. The characterizations are sharply drawn, with a keen eye for humorous details and dialog.
At the heart of all this, of course, is the hard-working, intelligent and deeply conflicted Ben Packard:
When he looked back on it, Packard knew fleeing from Minneapolis to Sandy Lake had been what they call in recovery circles a geographical cure. He thought his problems were with the city and the job and the rumors about him and Marcus. He'd expected to leave his troubles behind, but two years on he still hadn't resolved his feelings about Marcus. In death, Marcus had become perfect. Untouchable. Packard was the asshole who kept him at arm's length during their year together, wary of what his life would be like coupled with another man.
Following along as Packard comes to terms with both his identity and his grief is almost as gripping as the suspenseful abduction plot, and certainly as entertaining. I loved, too, that the ending hinted at a sequel that explores even more of Packard's past. After this impressive debut for both the character and author Joshua Moehling, I can't wait to read more.