A Primer on the Imaginative and Hardboiled Crime Comic, Spencer & Locke
Comic Books are a medium where pictures and words combine in magical ways that allow creators to fully realize story concepts that seem insane or unworkable like, "Calvin & Hobbes meets James Ellroy." That particular elevator pitch though is how I would best describe writer David Pepose, artist Jorge Santiago Jr, and colorist Jasen Smith's comic series Spencer & Locke from Action Lab Entertainment. The series, which follows the hardboiled exploits of a homicide detective named Locke, and his anthropomorphic panther partner (who may just be a delusion of the stuffed panther he had as a child or something more mysterious) returned on May 1st for a second volume, and in this piece we'll give you a brief rundown on why you should be excited, how to get caught up, and preview some pages from Spencer & Locke 2 #1.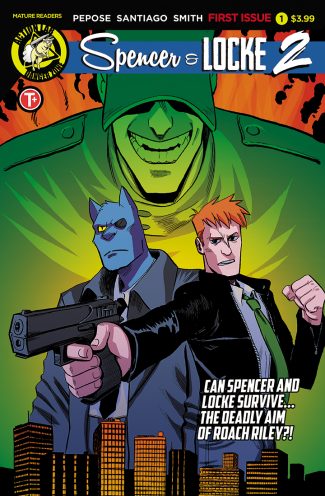 Let's start with the big question; how can combining a gritty, hardboiled police procedural with the whimsical and imaginative childhood humor of Bill Watterson's classic comic strip possibly work? The answer is in the contrast. That contrast gives Spencer and Locke a salty and sweet sort of flavor, and is delivered wonderfully by the book's art team of Jorge Santiago Jr and Jasen Smith. The modern day world they depict is somehow both cartoony and noirish, and they especially shine in the flashbacks to Locke's childhood.
In those flashbacks Santiago the art team gives readers pages and panels that look like they came from the Sunday Morning funny pages. They depict both Locke's wonderful imagination and the horrors he's using his creativity to escape from. That particular juxtaposition makes those pages both powerful and poignant.
Those flashbacks also give Spencer and Locke an extra emotional heft. Because, at its core, the series is a meditation on childhood trauma. It's the powerful and poignant tale of how an innocent boy confronts and copes with some of the horrible things that happened to him. It's also about the friendship between that boy and the stuffed animal that was there to comfort him.
Another reason Spencer and Locke succeeds is because it's a lot of fun. The action in the first series is fast and furious. It includes a great 80s action movie style climax that is set at a dinosaur museum.
There's also a pretty engaging mystery that, to his credit, Pepose doesn't provide a definitive answer to. Because, at first glance, it seems like the adult detective incarnation of Spencer is a delusion of Locke's traumatized psyche, but then later on in the first series hints are dropped that suggest something more might be going on. It looks like more clues to that mystery will be provided in Spencer and Locke 2.
The best way to get prepared for Spencer and Locke 2 is to grab the collected graphic novel edition of the first series. You can find it at your local comic store or available digitally via outlets like Amazon's Comixology.
I was lucky enough to get an early look at Spencer and Locke 2 #1, which puts the title characters on the trail of a vigilante serial killer known as Roach Riley. He's a fascinating nemesis in a number of ways, but I" only provide two specifics here. The first is that Roach Riley is a satire/homage of Mort Walker's Beetle Bailey, and he bears some deep emotional and psychological scars. So he's a character that will allow Pepose and his collaborators a way to examine adult trauma. The second is that we'll get glimpses into Riley's background done up in the style of Classic Beetle Bailey cartoons.
So, if you enjoy crime fiction that's salty, sweet, and wildly imaginative you owe it to yourself to pick up Spencer & Locke and Spencer & Locke 2. The first issue of the new series is available May 1st, and if you visit your local comic store you can guarantee yourself copies of the rest of the series by asking your retailor to pre-order it for you.
*Images courtesy of Action Lab – Danger Zone