A Primer on Richard Stark's Parker, Crime Fiction's Most Brutal Thief
Author of Payback is Forever from Shotgun Honey Books, Nick Kolakowski visits the site to offer a primer on one of crime fiction's most mysterious, and most brutal criminals—Parker, created by Donald Westlake writing as Richard Stark.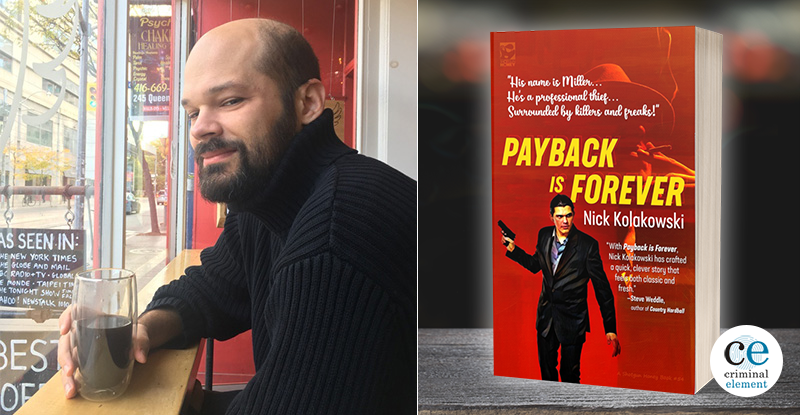 When Donald Westlake adopted the pseudonym of Richard Stark and wrote the Parker novels, which follow a master thief through a series of bloody heists and betrayals, he pulled off a magic trick. The novels reveal precious little about Parker—not even his full name, much less a detailed family history—and yet he remains a compelling character across 24 novels.
Most other crime-fiction authors, asked to spin up such a character, would have probably succumbed to the siren call of an extensive backstory and family history by book two or three. A dead sibling or an evil father or a nephew in trouble are all pure narrative gold. But Westlake resisted admirably, choosing instead to (almost) always focus on Parker in the moment, bulldozing his way toward his money.
With the recent announcement that Robert Downey Jr. and writer/director Shane Black plan on adapting at least one of the Parker novels, chances are good a whole new audience will discover these titles. (It'll also be interesting to see whether Downey Jr., who's known for his gregarious, ultra-chatty performances, will attempt to emulate Parker's taciturn spirit.) If you're interested in picking your way through the books, here are some starter tips.
Start with The Hunter: The first book in the series finds Parker robbed, shot, and left for dead. Determined to get his money back and kill the people responsible, he tears his way through the underworld—and causes a lot of trouble for The Outfit, a massive crime syndicate. It's easy to see why it's been adapted so many times to film (Point Blank (1967), with Lee Marvin; Payback (1999), with Mel Gibson), comics, and other media: The plot is propulsive and brutal as a hard right to the gut.
Continue through The Man with the Getaway Face and The Outfit: The next two books in the series form a rough trilogy of sorts. In Getaway Face, Parker has plastic surgery to change his appearance, but a series of unfortunate events put him back in the crosshairs of The Outfit. In The Outfit, Parker combats the syndicate head-on, climaxing in a lengthy gunfight in an Albany mansion. By this point in the series, it's a running joke that various criminals have a hard time figuring out what makes Parker tick—except his motives are breathtakingly simple. He just wants to be left alone to take down scores.
Don't Sleep on Slayground: This is one of my favorite Parker titles, simply because it tweaks what you might call the "standard" formula (it's also the 14th book in the series, and maybe Westlake was in the mood to try something new). In the aftermath of a messy robbery, Parker is trapped in a deserted amusement park, surrounded by the mob and some crooked cops. The result plays like a combination of an old-school pulp novel and Die Hard, as Parker figures out ingenious ways to kill the guys besieging him. Parker quips a whole lot less than Bruce Willis, though.
Yes, the later ones aren't quite the same: Following Butcher's Moon in 1974, Westlake took a multi-decade break from Parker, coming back in 1997 with the appropriately titled Comeback. Some Parker enthusiasts aren't as keen on the novels published over the next two decades (ending with Dirty Money in 2008, the year Westlake died), but they do have their charms. Backflash, which features Parker robbing a casino boat, is probably the most smoothly executed among them; you might see the flips and double-crosses coming, but it's like hearing your favorite musician playing a slightly different riff on an old classic.
Don't expect a ton of warmth: Most crime-fiction series feature the main character inevitably thawing out and becoming a bit more human. Don't hold your breath when it comes to Parker, though. He'll always be ice-cold—just the way we like him.