5 Notorious Cold Cases: Crimes I've Covered That Will Probably Never Be Solved
Join R. G. Belsky, long-time journalist and author of the Clare Carlson Mystery series, including the latest book The Last Scoop, for a list of notorious, real-life cold cases he covered as a journalist which remain unsolved today...
Most crime stories have a beginning and an end. They start with the crime, then the investigation by law enforcement authorities—and finally the solving of the case. But that's not the way it works with cold cases. All we have left is unanswered questions. Which is what makes cold cases so fascinating.
As a longtime journalist (NY Post, NY Daily News, Star magazine and NBC News), I've spent a lot of time covering baffling stories that never provided any real closure for family, friends, or the rest of us.
Now, in my upcoming mystery The Last Scoop, I have my character, TV newswoman Clare Carlson trying to solve a 30-year-old cold case like that: the seemingly senseless murder of a young high school cheerleader inside her house during broad daylight on a quiet Midwestern street.
Because this is fiction, I'm able to have Clare get the answers to the case—which turns out to be linked to the beginning of a terrifying spree being carried out on women over a period of years by a secret serial killer.
But it's not so easy finding out answers to some of the famous crime stories I've covered as a journalist—fascinating and compelling mysteries that remain with us long after the actual crimes occurred.
Here are five real-life stories I remember from my days in the media that have more twists and unexpected turns than I or any other mystery author could ever come up with: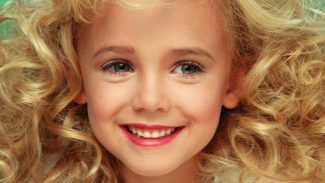 JonBenét Ramsey
Who can ever forget those haunting images of 6-year-old JonBenet Ramsey as a child beauty pageant contestant? As the news editor of Star magazine, I sent teams of reporters to cover this story in the weeks and months after she was strangled and slain in the basement inside her family's house on the day after Christmas, 1996.
We were part of the contingent of media that descended on the picturesque town of Boulder, Colorado that soon raised questions about the family, friends, neighbors, possible intruders, the strange kidnap note found at the house hours before JonBenét's body was found—and all the other baffling circumstances surrounding the case.
The murder of adorable little beauty queen JonBenét Ramsey became the most sensational tabloid story of our time.
Since then, some of these questions have been answered. Prosecutors eventually "exonerated" members of the Ramsey family as possible suspects; friends and neighbors and others were investigated and cleared; and even a man who came forward to confess to the horrifying crime years later turned into a dead-end when no evidence could be found to back up his claim that he was the killer.
But, 24 years later, we still don't know the truth about what really did happen.
JonBenét Ramsey would have been a 29-year-old woman today, if she had lived.
Instead, it appears that she took the secrets of her death to the grave with her.
Natalie Wood
If JonBenét Ramsey was the ultimate sensational murder story I covered, then the drowning death of Natalie Wood has been the ultimate tabloid celebrity mystery of my journalism career.
Was it an accident? Was it a crime? Was there negligence involved? Could Natalie Wood have been saved? We're still speculating on that in the media—tabloid and everywhere else too—39 years after the beloved Hollywood actress died off Santa Catalina Island while on a boat with actor husband Robert Wagner and co-star Christopher Walken.
The most-told account is that Natalie—after drinking and an argument involving her, Wagner, and Walken—went up on deck, then accidentally slipped and fell overboard. No one saw her go into the water, but did anyone hear her cries for help? At first, the answer was no, but different claims have emerged—including one woman who said she heard a woman's screaming for help for nearly 15 minutes that night and tried in vain to get help. Many other versions of what happened that night have been told over the years.
Then the story made headlines all over again more recently when law enforcement authorities reclassified the death as "suspicious" and named Wagner "a person of interest" based on a series of new interviews about the tragedy. But Wagner, now almost 90, has denied any involvement.
And it seems likely the death of Natalie Wood will remain what it always has been: a tragic mystery.
The Zodiac Killer
The most famous serial killer story I ever worked on was Son of Sam. But the most perplexing one was the Zodiac Killer who claimed responsibility for a series of murders in northern California during the late '60s—and then continued to write taunting messages to the media and authorities in the years afterward.
All the other famous serial killers we remember—David Berkowitz aka Son of Sam, Ted Bundy, and the rest were eventually caught and brought to justice.
But—despite many theories being floated in the media, books and movies—no one ever found out who the Zodiac killer was or why he was murdering people for no other apparent reason than the thrill of it.
His known victims were four men and three women—with two of them surviving. But Zodiac himself claimed in one of his communications to have killed up to 37 people. His letters and cards to journalists in the Bay area—giving himself the name Zodiac and containing puzzling cryptograms that still have not been definitively solved—became the basis for many thriller books and movies about serial killers. Even Clint Eastwood's 1971 Dirty Harry is said to have been loosely based on the case.
Zodiac is very likely dead by now, which just makes the mystery surrounding the Zodiac Killer story even more fascinating for journalists—as well as for mystery authors—like myself.
Bob Crane
We still see Bob Crane on TV reruns all the time as the wholesome, wise-cracking star of the popular '60s sitcom Hogan's Heroes. But that All-American image hid a secret life filled with sordid sex acts involving many, many women. And the fact that Crane's salacious lifestyle was likely what got him killed has fueled media coverage—and speculation—about his murder ever since it happened in 1978.
He was found dead in bed in his Scottsdale, Arizona apartment—where he'd been appearing in a theater production—with his head bashed in by a blunt object (believed to have been a camera tripod) and an electric cord around his neck. Investigators at the crime scene found more video equipment and an extensive collection of Crane's X-rated videotapes of his sexcapades.
This bizarre juxtaposition between Crane's popular TV image and his dark real-life activities is what has made this cold case so particularly compelling for journalists like myself and so many others. "To root for Col. Hogan and then to find out about a second sordid life shocks and baffles people to this day," the actor's son, Bob Crane Jr., has said. "Everybody has secrets, but his went public in a big way."
One leading suspect, a man who Crane had been involved with in making the sex videotapes, was actually charged with his murder years later. But he was acquitted in 1994. Other possible suspects have been talked about, most of them because of Crane's sex-filled lifestyle. A movie starring Greg Kinner and Willem Dafoe called Auto Focus was even made about Bob Crane's murder case.
But Bob Crane's mysterious killing remains unsolved—and will likely remain as Hollywood's most notorious celebrity cold case murder.
Nicole Brown Simpson & Ron Goldman
Wait a minute, I hear you all saying—that's not an unsolved cold case. We know who did it. Except it still has been classified as an open homicide investigation by the LAPD ever since O.J Simpson was acquitted on murder charges in 1995.
I remember the day in the Star magazine newsroom when we heard about the murder of Nicole Brown Simpson, O.J.'s ex-wife. I sent a reporter to the crime scene in the Brentwood section of Los Angeles, then to O.J.'s mansion. The reporter called to say that the police had found blood on his property that might be connected to the murder. The reporter said O.J. might be a suspect. That's when we realized this could be big.
Of course, it all exploded a few days later when an entire nation watched spellbound as O.J. Simpson led police on the famous white Bronco chase along the freeways of Southern California.
In the more than quarter-century now since this all happened, this murder case has gotten more media coverage than any other in crime history. I spent at least two years of my journalism life devoted to coming up with new stories about it week after week for Star—involving Kato Kaelin, Johnny Cochrane, Marcia Clark, Nicole, and O.J.'s celebrity friends and all the rest. The media frenzy started all over again several years ago when O.J. went to jail on an unrelated crime. And then there was O.J.'s own controversial book project—If I Did It—where he seemingly speculated on that premise.
But the biggest unanswered question about this story (unless you believe O.J.'s original story about hunting for Nicole's real killer) is exactly what happened that night which set off the bloodbath killing of Nicole and Ron Goldman? The only person who knows that is the killer. And, unless he tells us before he dies, it will be one more real-life crime mystery that can never be solved.
---
About The Last Scoop by R. G. Belsky:
Martin Barlow was Clare Carlson's first newspaper editor, a beloved mentor who inspired her career as a journalist. But, since retiring from his newspaper job, he had become a kind of pathetic figure—railing on about conspiracies, cover-ups, and other imaginary stories he was still working on. Clare had been too busy with her own career to pay much attention to him.
When Martin Barlow is killed on the street one night during an apparent mugging attempt gone bad, it seems like he was just an old man whose time had come.
But Clare—initially out of a sense of guilt for ignoring her old friend and then because of her own journalistic instincts—begins looking into his last story idea. As she digs deeper and deeper into his secret files, she uncovers shocking evidence of a serial killer worse than Son of Sam, Ted Bundy, or any of the other infamous names in history.
This really is the biggest story of Martin Barlow's career—and Clare's, too—as she uncovers the path leading to the decades-long killer of at least twenty young women. All is not as it seems during Clare's relentless search for this serial killer. Is she setting herself up to be his next victim?