18 Near-Future Films Worth Watching
Join Steven James, author of Synapse for a list of 18 of the best near-future sci-fi thriller films that came to his mind while he penned his latest novel, plus a few extra honorable mentions.
I've always loved thrillers and science fiction stories, especially those that occur in the near-future rather than hundreds or thousands of years from now.
As I worked on my latest novel Synapse, I ended up thinking a lot about my favorite near-future films, especially thrillers.
Here is a list of my top eighteen (with a few bonus movies thrown in):
18 — A Quiet Place (2018)
Some people might call this one horror, but I'll cut it a little bit of slack and include it in this list simply because it's so original, so well-crafted, and a movie you won't regret eating popcorn and watching. But be sure to chew quietly…
17

—

Limitless (2011)
Bradley Cooper receives a pill that expands his mind and changes his life, but you have to know things are going to go wrong along the journey. And they do. Worth a watch, especially for Cooper fans.
16

—

Equilibrium (2002)
This movie has one of my favorite lines of all time when Mary says, "[To feel]… is as vital as breath. Without love, without anger, without sorrow, breath is just a clock ticking." Nice. I've often thought of her observation that without love, breath is just a clock ticking. It brings a deep humanity and focus to all we do.
15

—

Her (2013)
Sure, it's not a thriller, but there haven't been many films in recent years that explore the unique aspects of artificial intelligence impacting someone's life in such an intimate way as this one, in which a man falls in love with his AI. And his love is reciprocated–or is it?
14

—

Ex Machina

(2014)
Smart, tight, and frightening, although I think the ending would have been better if the final scene were of the elevator doors closing. Watch it and see what you think.
13

—

The Astronaut's Wife (1999)
Really? Yes. This was the first movie I saw with Charlize Theron and I was blown away. It's twenty years old, but if you haven't seen it, check it out. It has aged well.
1

2

—

District 9 (2009)
The social statement about the internment camps makes this a story that will resonate with many people today. But the movie doesn't resort to preaching to get us thinking. (By the way, when people get blasted, they explode quite dramatically, so be ready for that.)
11

—

 Moon

(2009)
Great acting in this indie sci-fi gem. Stick with it. The "twist" comes earlier than you might expect, but the last act still contains a few surprises.
10

—

Arrival (2016)
Yes, if you haven't guessed it by now, I like stories that ask big questions. While the reveal showing the aliens might not have been what I was hoping for, the final reveal of the film was. definitely worth a watch.
9

—

Cloverfield (2008)
Shaky cam, what shaky cam? Alright, I admit that it is possible to get seasick watching this film, but if you like found footage stories you'll dig it. I kept wondering, "How did they film this thing?" (The spinoff 10 Cloverfield Lane is worth checking out as well, although the two movies don't really have much to do with each other.)
8

—

Edge of Tomorrow (2014)
Yes, Tom Cruise made it twice onto my list (see #1), but what could be better than a timeslip, alien-blasting, sci-fi story with Mr. Top Gun himself?
7

—

 Gravity (2013)
This movie drew me in right from the start. I'm not sure how they pulled it off, but as far as I could tell it sure looked like the whole thing was filmed in zero gravity. For me, that added to the believability and created what just might be a classic.
6

—

 Life (2017)
Honestly, I felt like the critics were too hard on this one. Sure, it was probably pitched in Hollywood with the tagline "Alien meets Gravity," but if you can get past that description you can find a movie that stands up solidly in its own right.
5

—

 Rise of the Planet of the Apes (2011)
Of course, you might have seen the other two as well, but in my view, this is the best of the three recent "Apes" movies. Probably my favorite scene is the fight on the bridge.
4

—

Inception (2010)
Some people complained that this movie was too complicated or hard to follow, but I loved it. Yes, the film plays with your mind and your impressions of reality, but don't overthink the storyline and whether or not it all needs to make sense. Just enjoy the ride. And then, there is that spinning top at the end…
3

—

 Imposter (2001)
This is a little-known Gary Sinise film that should have received a lot more attention. It's intriguing, twisty, and I could not guess how it would end. And when the final reveal came, my jaw dropped.
2

—

Black Mirror, "USS Callister" (2017)
Okay, as a Black Mirror fan it wasn't easy to choose only one episode to focus on, but I think this is one of the most interesting (and frightening) episodes of the series. I don't want to give too much away. Just watch it. Tonight.
1

—

Minority Report (2002)
For me, this movie has it all—a nice mystery, thrilling chases, an intelligent storyline, and solid acting. From what I understand, the filmmakers flew in futurists to brainstorm what the world would be like fifty years in the future. They took some liberties, but created a believable and fascinating world for this classic.
Even though the timeframe of the next three films might not be exactly right, a list like this would not be complete without Terminator 2: Judgement Day, The Matrix, and Aliens.
(Oh, and here are a couple of time travel shorts that you can watch on YouTube that are both worth your time: "The One-Minute Time Machine" and "Stealing Time." Enjoy!)
---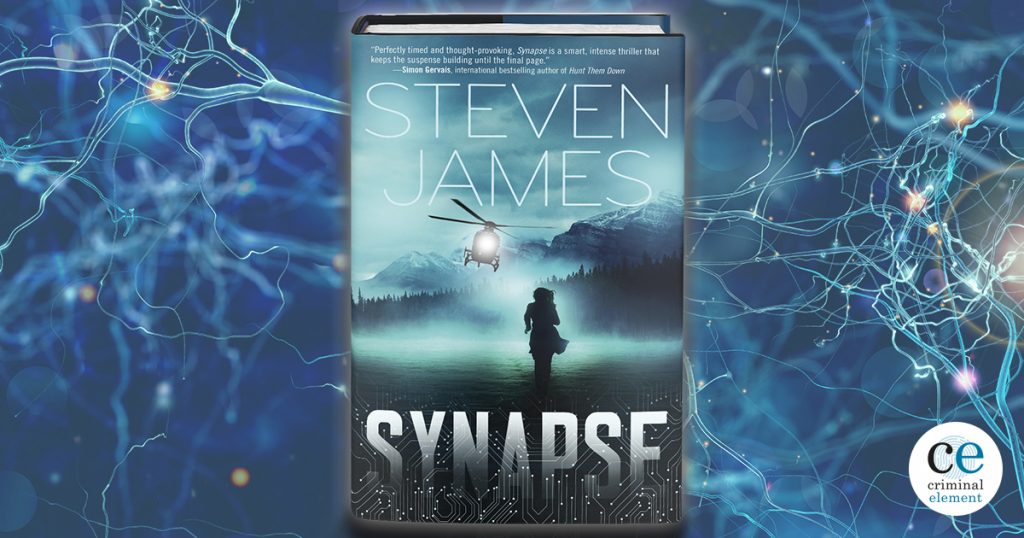 About Synapse by Steven James:
Thirty years in the future, when AI is so advanced that humans live side by side with cognizant robots called Artificials, Kestrel Hathaway must come to terms not just with what machines know, but with what they believe.
Soon after experiencing a personal tragedy, Kestrel witnesses a terrorist attack and is drawn into a world of conspiracies and lies that she and Jordan, her Artificial, have to untangle. With a second, more brutal attack looming on the horizon, their best chance of stopping it is teaming up with federal counterterrorism agent Nick Vernon. But the clock is ticking—and all the while, Jordan is asking questions Artificials were never meant to ask.
Deftly weaving suspense and intrigue into a rich, resonant tale that explores faith and what it really means to be human, Steven James offers us a glimpse into the future—and into our own hearts.